Wisk Aero and the South East Queensland Council of Mayors (COMSEQ), Australia's largest regional local government organization, have published a paper outlining the benefits Advanced Air Mobility (AAM) will bring South East Queensland (SEQ). Queensland Government modelling suggests that by 2036, skies across SEQ could host hundreds of daily passenger and freight services. Existing aviation infrastructure, such as Brisbane Airport, Sunshine Coast Airport and Wellcamp Airport, and heliports, are likely to be key locations in SEQ's AAM network.
According to the report:
"It is envisaged AAM will complement existing infrastructure development, like the fully electric fleet from Brisbane Metro and Cross River Rail, and connect with existing modes of transport, such as bus and rail networks. In regional communities such as Scenic Rim, Somerset, Toowoomba and Lockyer Valley, AAM can enable shorter travel times from the city fringe and regional areas to major metropolitan centres and transport hubs. AAM can also provide regional, remote and island communities with enhanced mobility options at significantly lower infrastructure cost.
"Importantly, the geographic distribution of urban and regional centres throughout SEQ presents significant opportunities for air taxi services. Advanced aircraft, such as Wisk's Generation 6 air taxi, will unlock new opportunities that have the potential to transform mobility such as:
Connecting travellers at Brisbane Airport to the Sunshine Coast in only 22 minutes, saving at least an hour sitting in traffic,
Opening new tourism possibilities with flights from Brisbane CBD to the islands of Moreton Bay, or to the pristine wilderness areas of the Scenic Rim, in under 15 minutes, and
Improving health outcomes for regional communities by connecting communities in the regional communities to medical services in major centres in less than 25 minutes.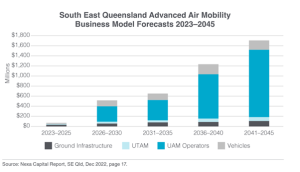 "With Australia poised to capture around 3% of the global AAM market, according to a recent Roland Berger study, it is projected that AAM could contribute over $AUD66 billion, or 3.1%9 of national GDP, to the Australian economy by 2040. A recent Nexa Capital study (December 2022) has identified, with the adoption of AAM, the SE Queensland GDP will increase by an estimated $3.7B (US) over the coming 25 years. The revenue forecast for AAM services in the SEQ region over the next 12-15 years is expected to be significant: driving major investment in infrastructure, job creation and advances in technology. Forecasts are for an AAM industry with a combination of passenger, business aviation, urban and regional air mobility to receive revenues of up to USD1.7 billion by 2045."
(Image: Shutterstock)
For more information
Advanced Air Mobility Presents Opportunity to Bring Economic, Social, and Environmental Benefits to South East Queensland