By Chris Stonor
 The AFWERX Agility Prime program took another step forward last month with the first government remotely piloted flight of an eVTOL aircraft, reports a press release. Kitty Hawk, in partnership with Agility Prime, is evaluating a training syllabus for its unmanned eVTOL aircraft, the Heaviside.
Capt. Terrence McKenna, an Air Force reserve pilot with the 370th Flight Test Squadron and the Test and Experimentation Lead for AFWERX Agility Prime, participated in remote pilot in control training on the Heaviside at the Kitty Hawk Corporation's facility in Palo Alto, Californai via the Buddy Box System. This first Airman flight demonstrated another key milestone in the collaboration.
McKenna commented, "Agility Prime is figuring out how we approach training for these types of aircraft. This is a whole new ballpark."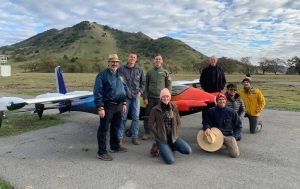 (Team Pic: Katie Milligan/AFWERX)
McKenna's over 15 years of expertise piloting manned aircraft such as the C-5 and the T-38, as well as designing, developing, and testing manned and small unmanned aircraft systems as a civilian engineer, assisted Kitty Hawk's team of engineers in refining both their product and training procedures.
Kitty Hawk Corporation was founded in 2010 by Sebastian Thrun and is backed by Google co-founder Larry Page. Their series of Heaviside aircraft are just several in a line of over 20 various eVTOL prototypes. Last July, the USAF granted Kitty Hawk airworthiness approval, enabling the company to take advantage of additional testing opportunities through a partnership with Agility Prime.
The Heaviside was first deployed in 2019 after nearly a decade of development. The aircraft's maximum take-off weight is approximately 880 pounds, allowing for a passenger weighing up to 176 lbs. Heaviside can travel at speeds of roughly 180 miles per hour, but most significantly, it is quiet, only about 35 decibels at 1,500 ft above ground level, which is slightly louder than a whisper and about 100 times quieter than a helicopter. Additionally, Heaviside has demonstrated 237 transitions between hover and forward flight, as well as a range of 100 miles on a single charge.
A training feature of the Heaviside is the Buddy Box setup, which is a secondary remote controller wired to a primary one. This system is intended for the use of an instructor and a student performing the duties of an external pilot in manual flight mode. The trainee handles and operates the aircraft while the instructor provides supervision and support.
The release explains, "The Buddy Box system works much like a driver's education car. The driving instructor is in the passenger seat and allows the student to manually operate the vehicle, but is ultimately in full control and able to brake if necessary."
It goes on, "Likewise, for a Buddy Box setup, the instructor can override any direction that the remote pilot in command gives the aircraft from the primary controller."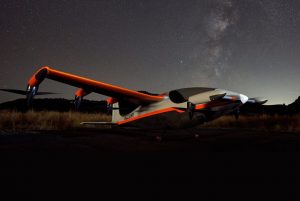 The Heaviside and future models will not rely on an external pilot for flight operations, but utilising this training method now affords the opportunity for more immediate and qualitative feedback on the aircraft, while also building out a training syllabus for the GCS operator. The current training plan for the Heaviside includes a five-day familiarisation course and a 12-day qualification course.
McKenna commented on the Air Force early involvement success through Agility Prime with eVTOL companies like Kitty Hawk. He said, "That interaction is paying dividends and it's continuing to grow. First hand, I've seen that interaction prove highly fruitful."
He continued, "It's a great way to accelerate innovation, supporting industry and keeping up with them. It's been a great team effort and I'm excited about how it came together." 
Visual presentation
https://www.youtube.com/watch?v=65O_UbvkYWM&t=31s
For more information