By Chris Stonor
Providing air taxis for players and patrons attending the 2027 Ryder Cup in Adare Manor is an achievable target, according to a new Shannon-based aviation consortium, reports clarechampion.ie.
Skyports, Future Mobility Campus Ireland (FMCI), Avtrain and Shannon Group have joined forces to establish Ireland's first passenger and cargo vertiport at Shannon's FMCI, encouraging participation and investment in Ireland's Advanced Aerial Mobility (AAM) industry. Their goal is the establishment of the country's first air taxi service and beyond visual line of sight (BVLOS) drone operations.
The Ryder Cup is just one of the various exciting enterprises planned by the new group, leading a revolution in how air taxis and unmanned drones will completely change aviation over the coming years.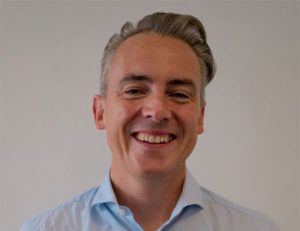 Russel Vickers
Russell Vickers, CEO of FMCI, comments, "Someone coming off a jet in Shannon Airport will be able then to take an air-taxi to fly to Adare Manor or somewhere close like the Aran Islands."
He continues, "These electric aircraft will be able to transport people up to 200 kilometres. These services could be used to service the whole West coast of Ireland, particularly places like the Aran Islands, West Kerry and West Clare."
Vickers explains, "There will never be a motorway built to Lahinch and no one would want that. These locations are rural areas that can be hard to access from Shannon Airport. They are called air taxis because the operators want to make the price per mile very competitive like what a taxi would cost. We think Ireland is very well suited for this new industry."
In the long term, he says eVTOL companies want to reduce the price per mile to make air taxis affordable for everyone and not just the wealthy. FMCI want these companies to trial and certify their new aircraft in Shannon.
With a scheduled opening at the end of March, the new Shannon Vertiport (SV), which is "the first of its kind in Ireland and one of the first in Europe", according to Vickers, will be well placed to drive innovation in the development of eVTOL aircraft.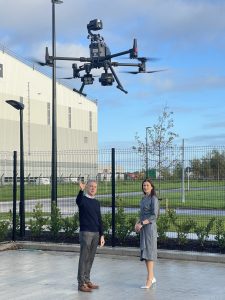 The SV is to include a Control Operations Centre and take-off and landing area as well as communications equipment to track drones. It will have eight landing zones as part of the test bed. The initial focus is on facilitating bigger drones that can carry up to 30 kilos.
In 2019, FCMI was awarded EUR800,000 funding from Enterprise Ireland under the Regional Enterprise Transition Scheme to build this vertiport. In Phase Two, FMCI will be looking at developing charging infrastructure and operational facilities to manage passengers rather like a mini airport.
Vickers says the Shannon region has a huge potential to shape future research and development of Advanced Aerial Mobility. "FMCI is working with global companies on the development of advanced aerial mobility. There is a lot of global interest in this aviation innovation. FMCI are also part of EU projects researching the best way to manage manned and unmanned traffic together."
Julie Garland, CEO of Avtrain, believes these aviation developments provide exciting new opportunities for businesses and travellers.
She remarks, "We live on a relatively small island in European terms. The distances we need to travel from one end of the island to the other are relatively small. Travelling short distance journeys of a few hundred kilometres by air will take minutes rather than hours." Garland adds, "We could be travelling at speeds of up to 180 kilometres an hour compared to much lower ones on our roads."
Julie Garland
Last October, the consortium plus FedEx came together for Proof of Concept flights from FMCI's base at Shannon Airport to Foynes Port operating up to 30 BVLOS flights per day to demonstrate the use case for integrating drones into supply chain logistics. The 30-day trial involved BVLOS where the unmanned aircraft took off and flew by itself, once it was given the all clear by Air Traffic Control.
For the purpose of the trial, a FedEx spokeswoman explained only test shipments were loaded onto the drones, which completed this journey in 13 minutes compared to at least 50 minutes by road outside peak times. FedEx sees the potential to cut delivery times for certain types of packages for particular areas. She says, "New innovations are constantly being tested at FedEx to expand the company's technology portfolio. Testing of autonomous technology continues through a variety of pilot programs, including this trial with Skyport last October."
Vickers explains, "New European regulations have been introduced to manage drone and regular air traffic. There will be an Air Traffic Management System for drones like commercial jets. These two systems will talk to each other to manage traffic lanes.
He continues, "A lot of interesting research and technology will emerge as we are at the start of this journey. We think there is a lot of potential for new companies to come to Shannon."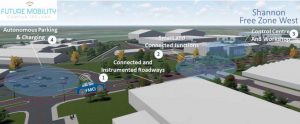 Deputy Cathal Crowe recently asked the Tánaiste and Minister for Enterprise, Trade and Employment, Leo Varadkar, if his Department (IDA) has endeavoured to attract sustainable and new aviation industries relating to craft such as drones to County Clare. Minister Varadkar replied, "Despite the devastation of the pandemic to the international travel industry, IDA has continued to market Shannon and the Mid-West for aviation-related activities." Adding, "Should current market trends continue to improve globally, the future of the Shannon cluster looks positive, and we look forward to supporting new activities and client companies in the months to come."
For more information
https://futuremobilityireland.ie
(News Source: https://clarechampion.ie/)