By Chris Stonor
In recent months, so-called experts and authorities on the eVTOL industry have pointed to the Asia/Pacific region as the up-and-coming dominant market, partly triggered by the successful "wheelings and dealings" at the Singapore Airshow last month alongside various reports from respected research companies. Yet, could Latin America, become a force too within the industry? This is a question posed by worldcrunch.com in an article entitled "For Latin American cities, flying cars are suddenly within reach."
After describing the eVTOL industry as "…potentially vast, investment banks expect it to be worth trillions of dollars in the next decade," journalist, Gianni Amador, points out that "Latin America is helicopter country. It is one of the biggest markets for the vehicle and has six of the world's 10 biggest city chopper fleets. It also has vast conurbations like Mexico City and São Paulo that need better, smooth and sustainable transportation."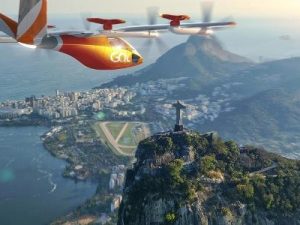 Vertical Aerospace 'Gol'
Some suggest eVTOLs are the 21st century equivalent of a helicopter, being far more carbon-friendly, less noisy, much safer etc.. Therefore, a neat swap from old to new technologies.
The article goes on, "São Paulo, a city of some 13 million residents, would be an ideal market for flying vehicles, both for the density of its population and its road traffic. It already has the world's biggest fleet of helicopter taxis with an average 1,200 flights a day, according to consultants Cowen Inc."
Also, a report entitled: "Aviation 2030: Air Taxi Readiness Index" from research company, KPMG, found Brazil to be ready for such vehicles in terms of social and technical conditions, although admitting it is still behind countries like the United States and Europe.
At present, Latin American airlines who have placed orders or announced investments are Azul Linhas Aéreas Brasileiras and Gol Linhas Aéreas. The former signed an order with Lilium worth USD1 billion for 220 six-seat eVTOLs to be delivered in 2025, while the latter expects to receive 250 vehicles from Vertical Aerospace through a deal signed with the Irish plane-leasing firm Avolon.
Rene Armas Maes
Aviation consultant, Rene Armas Maes is interviewed in the article and says this interest from airlines is to provide a new product for optimising earnings per passenger as well as for use within the cargo shipments sector including the transportation of donor organs. This view is supported by Alberto Torrijos from Deloitte, who points out these services can later expand to ride-sharing and executive transfers within cities.
Read Article:
https://worldcrunch.com/tech-science/flying-cars-latin-america/the-future-s-in-the-air
(News Source: https://worldcrunch.com)
(Top pic: lilium.com)