By Chris Stonor
ANA Holdings, Japan's largest airline, and Joby Aviation announced this week, they're collaborating to deliver an air taxi service to Japan, reports a press release. The exciting possibilities include decreasing a 31-mile, one hour journey by car from Osaka station to Kansai International Airport to less than 15 minutes by air taxi. Toyota Motor Corporation has also joined the partnership, to explore opportunities like ground-based transportation.
"The collaboration," says the release, "is to look at all aspects of establishing a new form of transportation in Japan, including the development of infrastructure, pilot training, flight operations, air traffic management, public acceptance and the regulatory requirements to operate." The parties will also conduct joint discussions with relevant private companies as well as local and national governments.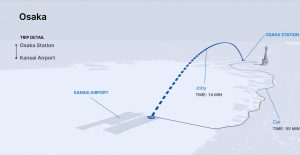 (Click to Enlarge)
JoeBen Bevirt, Founder and CEO of Joby, commented, "Japan offers us a spectacular opportunity with 92 percent of the population living in urban areas and Tokyo registering as one of the top 20 most congested cities in the world". Adding, "We're humbled to be working with ANA, an airline that has deservedly been awarded SKYTRAX's 5-Star rating nine years in a row."
Koji Shibata, Representative Director and Executive Vice President at ANA HD, remarked, "Our customers value efficiency very highly, so being able to provide them with the option to travel rapidly – and sustainably – from an international airport to a downtown location is very appealing."
The partners are all existing members of Japan's Public-Private Conference for the Future Air Mobility Revolution, established by the Ministry of Economy, Trade and Investment and the Ministry of Land, Infrastructure, Transport and Tourism to accelerate the adoption of "aerial ridesharing" in the country.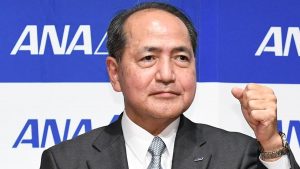 Koji Shibata
This concept has been gathering momentum in Japan as the country accelerates its efforts to prepare for the 2025 World Expo to be held in the western capital of Osaka, the third most populous city in Japan and the largest component of the Keihanshin metropolitan area of more than 18 million residents.
Joby already has strong connections with Japan, having worked alongside Toyota since 2019. As well as continuing to lend its expertise on manufacturing process development and high-volume production to Joby, Toyota will also support today's announcement by looking to partner in other aspects of the value chain such as ground-based transportation. Toyota is Joby's largest outside investor, with nearly USD400 million invested to date.
For more information
https://www.ana.co.jp/group/en
https://www.jobyaviation.com/blog/shared-commitment-future-of-mobility/