By Chris Stonor
Joby is joining an increasing line of eVTOL start-ups coming to market. Via a merger with Reinvent Technology Partners (RTP), the company is to list on the NYSE Stock Market, reports a press release.
RTP is an acquisition firm that takes a "venture capital at scale" approach to partnering. Upon the closing of the transaction, the combined company will be named Joby Aviation and become publicly traded.
The merged firm is valued at USD6.6 billion "post-money equity" and expected to provide around USD1.6 billion in gross proceeds. This includes USD910 million of investment funding from strategic partners and institutional investors including Uber Technologies, The Baupost Group, funds and accounts managed by BlackRock, Fidelity Management & Research LLC and Baillie Gifford.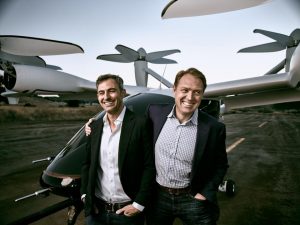 Paul Sciarra and JoeBen Bevirt 
JoeBen Bevirt, Founder and CEO of Joby Aviation, said, "Our long-term vision has always been to build a global passenger service, helping a billion people to save an hour every day, while contributing to the protection of our precious planet." He continued, "Today's transaction lets us look ahead to the next decade and provides us with the resources we need to bring our vision to life."
Paul Sciarra, Executive Chairman of Joby Aviation, added, "By rethinking how air travel is delivered, we can open up new ways of moving around congested cities and under-served rural communities, helping to tackle congestion and climate change at the same time. Aerial ridesharing will drive a generational shift in how we travel this century, just as the railroad and the jet aircraft did in previous centuries."
Previous UAMN articles on Joby Aviation:
https://www.urbanairmobilitynews.com/air-taxis/watch-video-latest-news-on-joby-aviation-purchase-of-uber-elevate/
https://www.urbanairmobilitynews.com/air-taxis/agility-prime-joby-aviation-awarded-first-military-evtol-airworthiness-approval/
Joby has spent more than a decade developing piloted, all-electric, vertical takeoff and landing passenger aircraft, with over 1,000 test flights conducted to date. The company intends to operate a clean, quiet and affordable air taxi service starting in 2024.
Joby was the first to agree certification for an eVTOL aircraft with FAA and the first to be granted airworthiness approval by U.S. Air Force, while recently acquiring Uber Elevate.
Proceeds from the stock market float will fund Joby for its passenger service launch, including certification of aircraft and development of manufacturing facilities.
The company intends to revolutionise how people move "by unlocking the possibility to leapfrog sustainably over the gridlock below in its piloted, four-passenger, emissions free aircraft, which can travel up to 150 miles at speeds up to 200 miles per hour."
The share equity proceeds are expected to fund the business through to the start of commercial operations, including certification of the aircraft and development of manufacturing facilities.
Reid Hoffman, LinkedIn Co-Founder and Co-Lead Director of Reinvent Technology Partners, commented, "In Joby we see a remarkable founder-led team that has quietly delivered the most advanced technology we've seen in this sector. With valuable strategic partnerships including Toyota and Uber, we believe Joby is well-positioned to create a transformative new human-centred mobility network."
Joby Aviation aims to launch commercial operations in the U.S before scaling its service globally. Air taxi networks can be expanded rapidly and efficiently using existing heliport or airport infrastructure, with the number of routes in a network growing exponentially as new vertiports are introduced.
The market opportunity for aerial mobility has been estimated at USD500+ billion for the United States, while the total addressable global market is expected to exceed USD1 trillion.
Visual presentation
https://www.youtube.com/watch?v=4wbFw165ar0&feature=youtu.be%22+%5Ct+%22_blank
For more information