By Chris Stonor
Buoyed by the recent Californian "reveal event" of its Maker Aircraft to an enthusiastic audience, as if a possible sleight to Wisk, Archer has taken on over 20 new engineers, formerly from Aerion Corporation, reports a press release.
This latest staff addition combine more than 350 collective years of industry experience after working for the former, but now defunct, U.S aircraft manufacturer. This will elevate Archer's engineering team as it works towards certification of The Maker.
Until recently, Aerion employed a group of impressive talent who helped the company work towards their innovative vision of supersonic air travel. From 2004 until 2021, the company had been developing a 10-passenger supersonic jet to cut transatlantic flights by three hours using "boomless cruise" technology to negate the sonic boom. It was expected to be the first supersonic aircraft without an afterburner to lower emissions, and the first to run on biofuels.
Aerion's Proposed Supersonic Jet
Tragically, Aerion abruptly announced a month ago that the company would be shutting down due to an inability to raise needed capital to proceed.
Archer's latest engineering staff bring extensive industry experience from major OEMs such as Gulfstream, Bombardier, Embraer, Honeywell, Boeing, Airbus and others. The hires consist of critical candidates needed for Archer's aircraft design and certification roadmap including areas such as Aerodynamics, Flight Controls, Avionics, Structures, System Engineering and System Safety, Program Management and more.
The press release says, "Archer's primary focus moving forward is to work towards certification and commercial launch in 2024. Similar to the singular vision Aerion held in their pursuit to transform international travel, Archer is aiming to revolutionise inner-city travel for an affordable, sustainable future of exploration."
And goes on, "Archer is confident that these talented additions will have a space to continue exploring their passion for aviation, and ultimately will help the company work towards altering how people approach everyday life, work, and adventure."
The more than twenty engineers joining Archer's team will help the company grow in key areas such as fly by wire systems, flight dynamics, systems engineering, system safety, avionics, power systems, and electromagnetic effects. All of these aspects of the engineering process will be key for Archer's pursuit of government certification, and with the notable industry experience of these new hires ranging from OEMs such as Boeing and Gulfstream, the company is confident that their ever-growing team will pave the path for commercial release.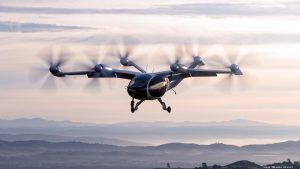 The Maker in Proposed Flight
Brett Adcock, Archer co-founder and co-CEO, commented, "At Archer, we are always searching for the best talent in the industry to join our team and help us towards our goal of certification and commercial flight."
Adam Goldstein, the other Archer co-founder and co-CEO, added, "We are thrilled to welcome these talented engineers to our team to usher in the future of cities and sustainable transportation."
I am sure there is a moral to this story. Perhaps, "good timing" comes to mind for Archer. There are winners and losers in any industry, so hearfelt condolences go out to Aerion. If the pandemic had not struck, the company might still be a going concern today.
For more information
(Top pic: Archer's Founders at Recent "Reveal Event")