By Chris Stonor
The New Year weaves a strange spell over the Advanced Air Mobility (AAM) media. Either there is a reflection on 2021 or crystal ball gazing into the future using the obligatory Top 5 or top 10 lists of companies to watch out for. Aviationweek.com is the latest outlet to emulate Nostradamus and offer us a peek into 2022.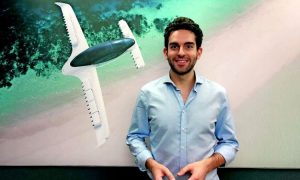 Daniel Wiegand, Lilium
Under the heading Aviation's New Pioneers: Advanced Air Mobility Leaders, the media company proposes a resplendent, but odd number of 13 companies to watch out for with interesting information on their leaders. These include the obvious ones like Joby, Lilium, Archer and EHang as well as less obvious like Magnix, Universal Hydrogen and HT Aero.
Factoid: Did you know Joby CEO, JoeBen Bevirt, initially founded several companies that automated drug discovery as well as created a unique flexible camera tripod.
Read Article:
https://aviationweek.com/aerospace/aviations-new-pioneers-advanced-air-mobility-leaders