By Chris Stonor
Given the present speed of development from leading eVTOL companies like Joby, EHang and Volocopter and the promised land of "flight certification" within 12 months, the much-needed, all-important vertiport that such an aircraft requires to take-off from and land… why is this integral element of the jigsaw, some believe, lagging behind? You cannot have one without the other. It would be a crime if Joby gains full flight certification, for example, and there are no vertiports available for the aircraft's use.
Certainly, in recent times, the eVTOL industry is waking up to this time lag and the sound of "action stations" is more prominent, in particular, from the FAA. UAMN has published a number of recent stories pointing to this fact. Below are just two examples:
Vertiport design: Register for FAA "special industry virtual day"
Draft vertiport design standards "show marked differences to ICAO helipad requirements"
It is heart-warming that the UK is leading the charge with the Urban-Air Port event in Coventry between April 28th and May 15th, where an actual constructed vertiport/droneport can be viewed by the public. This is a major step-forward. Yet, like stopping an oil-tanker out at sea, there are still various hurdles and obstacles to overcome before large scale and widespread vertiport construction can be achieved. An obvious problem being the area required to build such a structure within a congested and highly populated urban mass, where free space is at a premium. And should there be a uniformity for each vertiport or is it an architectural free-for-all?
No surprise, then, the concerns remain, especially in Europe, where the clarion call is 2024 for the earliest timeframe before the start of vertiport operations. An obvious question: How many will there actually be? Just a few is not nearly enough to build a successful revenue stream for the eVTOL pioneers. Will demand far exceed supply?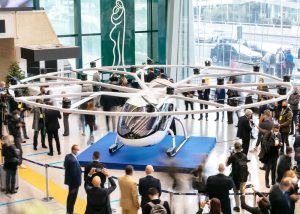 Below is an excellent interview published in evtol.com with Giovanni Cavallaro, Vice-President of Strategic Planning and Regulatory at Aeroporti di Roma, on how  "Rome has positioned itself in taking the lead in the development of UAM infrastructure in mainland Europe…"
Meanwhile, it cannot be emphasised just how important the need for vertiport construction is, at present, and the sooner this begins the better.
Read interview:
https://evtol.com/q-and-a/aeroporti-di-romas-giovanni-cavallaro-vertiport-networks-italy-france-by-2024/
(Main image: https://www.mvrdv.com/)