By Chris Stonor
EHang continues to attract World leaders after President's Macron glowing words about the company's AAV 216 passenger air taxi at the French VivaTech Exhibition back in June.
Previous UAMN Article:
https://www.urbanairmobilitynews.com/air-taxis/ehang-wows-at-france-vivatech-21-president-macron-impressed-by-aav-216/
This time it was Chinese Premier, Li Keqiang, who appeared impressed while purveying the AAV at China's Import and Export Canton Fair in Guangzhou, Guangdong Province, reports a press release.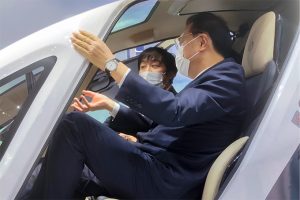 Huazhi Hu and Li Keqiang
Huazhi Hu, Founder and CEO of EHang, introduced the E216 to the Chinese Premier who "urged the company to ensure product safety, create high-quality products, and continuously improve competitiveness in the international market" and emphasised that "entrepreneurship and innovation are the foundation and key to national success in the future."
The release says, "Last November, the General Office of the State Council of the PRC emphasised to accelerate urban air mobility development as the national strategy and create industry standards, to speed up legislative processes and promulgation for the official Interim Measures for Flights Administration of Unmanned Aerial Vehicles (UAV) as well as promote industrial upgrading and practical applications for firefighting UAVs."
Hu commented, "EHang will continue to seize development opportunities, maintain independent innovation, strengthen technology leadership, and lead innovative development in the global UAM market."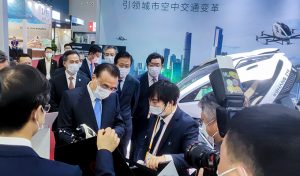 This was the first time EHang has participated in the Canton Fair, which has become an important trade promotion platform in China and is known as a "barometer" and "weathervane" of China's foreign trade.
The 130th Canton Fair officially opened to the public last Friday (October 15th) and lasts until Tuesday.
For more information