By Chris Stonor
Dufour Aerospace has revealed its specification details on the Aero3, its eVTOL flagship craft, reports a press release.
The Aero3 is a VTOL tilt-wing aircraft that combines exceptional space, load and range for various transportation missions including a majority of today's helicopter applications. This piloted, multi-purpose hybrid aircraft is a successor to the unmanned demonstrator aircraft test flown by Dufour Aerospace since 2020.
The release says, "Aero3 features a decentralised electric main propulsion system of eight motors powering six propellers fixed to the main tilt-wing and two smaller tail propellers. Its large cabin and wide doors allow for a 6- or 8-seat configuration and offer enough space for patient or cargo transport."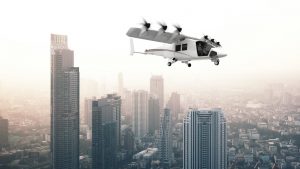 And goes on, "The design features an exceptional cruise speed of 350 km/h (189 knots) and a range of up to 1020 km (551 nautical miles), Aero3 will be the perfect tool for most VTOL applications."
Thomas Pfammatter, CEO and Co-founder of Dufour Aerospace, commented, "The tilt-wing design of Aero3 combines the best of the worlds of helicopters and airplanes – the ability to take off and land like a helicopter and the efficiency and speed of an airplane in cruise flight."
He continued, "Even while these markets are in their infancy, our product will replace a significant number of today's light and medium helicopters, as it meets the requirements of today's operations at much lower costs, is more sustainable and quieter."
Jasmine Kent, CTO and Co-founder of Dufour Aerospace, added, "The tilt wing is a proven aerodynamic concept with a long history of thousands of flight hours in several projects, such as the inspirational Canadair CL-84, so there are fewer risks than with other VTOL concepts. Now three years into our tilt-wing development programme, we are confident that this aircraft can be built successfully to meet certification requirements."

While Aero3 is the flagship of Dufour Aerospace's tilt-wing product family, the Swiss company is simultaneously working on a smaller, unmanned aircraft named Aero2, using the same aerodynamic and technical principles. Aero2 is designed for logistics applications, inspection, monitoring, mapping, and public safety tasks. The specifications of Aero2 will be published at a later stage.
Footnote
The Aero3 can take off and land vertically in small spaces, like a helicopter, but flies as fast and  economically as an airplane, by virtue of its tilt-wing design. While the propellers are electrically driven, hybrid elements (conventional turbine or fuel cells) ensure a longer range. In addition to the Aero 3, Dufour is also developing the Aero2, an unmanned aerial vehicle based on the same aerodynamic and technical principles as Aero3.
For more information