By Chris Stonor
On Tuesday the opening ceremony of the Chinese Super League offered a unique experience for the 30,000 fans present, as a EHang 216 AAV flew over the Guangzhou Tianhe Stadium carrying the Vulcan Cup (CSL Champion Trophy) before the kick-off and then landed on the outfield to hand over the Trophy. This event was streamed live by CCTV National Television, reports a company tweet.
The publicity stunt caused excitable waves around social media. A Rialdo Shepherds writes, "Yes Ehang, yes. Keep making publicity like this and partnering up. When you get the CAAC certification us investors will watch you skyrocket and thus our investments. Oh and your 300km drone as well."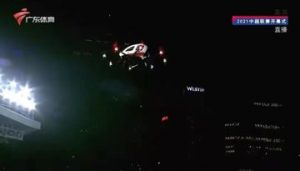 Others included the words, "Beautiful", "Nice one" and "I want a EH216." Oliver44552 tweets, "Everybody should see that the Chinese government trusts ehang!!!! The world should know that." And Peter Z suggests, "Nice! The same setup could be applied to European leagues and other major sports or music events. A great use case and publicity!"
Yet, not everyone was so excited or impressed. Charles Alcock from the Future Flight website tweets, "Can anyone see @FAANews or @EASA allowing this at a public event with an uncertified new aircraft? Not in a million years, but apparently the Civil Aviation Administration of China thinks it's fine."
The opening match of the new season saw a 2-2 tie in a Guangzhou derby. Guangzhou FC opened the scoring in the 7th minute when A Lan headed home Deng Hanwen's cross. Eight minutes later, Yan Dinghao committed an own goal for Guangzhou City. And City overtook the lead in the 51st minute with a goal from Ye Chugui before Wu Shaocong made his header in the 86th minute to equalize for Guangzhou FC. The 2021 CSL will be hosted in Guangzhou and Suzhou, with the first stage running until May 1st.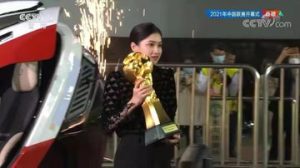 In accordance with the ritual protocol, the trophy should be handed over at the ceremony by the reigning champion Jiangsu FC, but it was disqualified from professional leagues due to financial difficulties before the new season kicked off.