By Chris Stonor
EHang announced last week its collaboration with Italian architecture firm, Giancarlo Zema Design Group (GZDG), to create the "world's first fully eco-sustainable vertiport", reports a company press release. The vertiport is not only based on green design and construction materials but will also generate its own energy to recharge the EH216 passenger AAVs.
Vertiports are to play a significant role in the UAM market and the new era of flight. While working on integrating vertiports into existing infrastructure to create "fully independent plug-and-play charging stations", both companies are also focusing on exploring aerial tourism.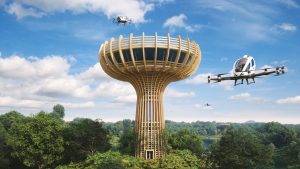 The futuristic design, inspired by the native African tree Baobab, is a 30 metre high tower, with a steel and laminated wood structure, a waiting room, a café, and a 200 sq metre panoramic restaurant and connecting lift. The take off-and-landing platform will be set on the roof terrace.
Consisting of non-slip photovoltaic panels that can generate over 300 KW and with integrated LED lights for night lighting and signage, the platform allows AAVs to be recharged.
With this Baobab vertiport, EHang and Giancarlo Zema Design, aim to enter the emerging world eco-tourism sector, with multiple projects under negotiations in Southeast Asia, Middle East, and Europe. Further details about the eco-sustainable vertiport are to be revealed soon.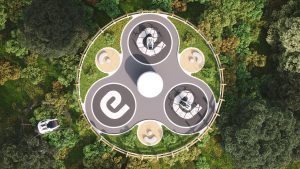 Footnote
Giancarlo Zema Design Group (GZDG) is a forward-thinking architecture practice in Rome, specialising in smart eco-sustainable projects, semi-submerged architectural structures, floating habitats, yacht and interior design (see website).
Founded in 2001 by architect Giancarlo Zema, the company uses advanced technologies and design software to create 3D models, prospective views and renderings, producing a full layout presentation.
For more information