By Chris Stonor
EHang's nightmare initiated by the U.S Analyst, Wolfpack, back in February, continues as its share price relentlessly falls, from a share high of USD124 in mid-February to USD29 today, pushed downwards further after Morgan Stanley this week downgraded the NASDAQ company "from overweight to equal-weight."
Therefore, it is no surprise that EHang has been peppering social media recently with news of a NEW and imminent long distance AAV in the company's pipeline.
Today, it tweeted, "We're pleased to announce that EHang will perform trial flights of a new passenger-grade eVTOL with flight range of more than 300km on May 25th. A big step closer of becoming a UAM solution provider. Stay tuned!" Yet, some disgruntled investors have complained this isn't the 400km AAV mentioned on social media. It seems 100km makes a BIG difference in the air taxi world!
Yet, this drip, drip of exciting developments has done little to arrest shareholder woes. And to make things worse, there is an impending lawsuit against EHang in the offing for those who feel cheated, backed by the allegations from Wolfpack.
Morgan Stanley analyst, Tim Hsiao, report states, "EHang's outlook depends largely on the regulatory environment and gaining global regulatory approvals for AAVs." He continues, "EHang currently runs its business via special permits and still lacks formal airworthiness certificates or official permits for commercial operations globally."
Hsiao points out that EHang also faces increased competition from incumbents such as Volocopter and also non-AAV players such as Xpeng and Volkswagen which has said its exploring  "vertical mobility." While, Morgan Stanley has raised its initial target from USD24 a share to USD33, this is a little crumb of comfort for those lured in to buy above USD35.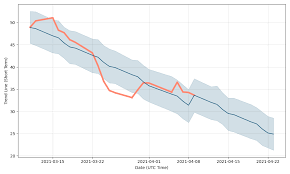 On Friday, EHang release the company's unaudited financial results for the fourth quarter and full year ended December 31, 2020. Whether this has a positive impact on the share price remains to be seen.