By Chris Stonor
EHang are back in the news again this week with several major new stories. These include the Chinese UAV company holding a flight demonstration in U.S, Ohio, showing off its 216 passenger air taxi to state VIPs and a business website stating EHang shares are "a screaming buy!"
The business website, seekingalpha.com, is telling investors that EHang is a STRONG BUY after the UAVs share price has fallen substantially in the last few months due to "a poorly performing Chinese stock market as well as a sudden strategy shift that caused revenue to decline." This week the price fell to lows of USD21.
Demonstrations in Ohio
Seekingalpha cite the recent unveiling of the VT-30 that makes EHang one of the few eVTOL companies with more than one model ready for flight; the new Yiunfu facory and its operational start; and the continued expansion into new countries.
The website comments, "Recently, EH unveiled its 100 Air Mobility Routes Initiative, with the company targeting the implementation of 100 Chinese air mobility routes within 2 years for island hopping, low altitude aerial tourism, and suburban transportation. When these routes start functioning, it will mark the start of the company's transition from being an OEM to an air taxi service."
And goes on, "EH has already screened and tested 7 spots for UAV operations, mostly in South China, and has targeted another 15 operation spots. The company has also partnered with customers to conduct operations in another 21 spots. All in all, the plan seems to be moving along fast even though it only started to be implemented this year."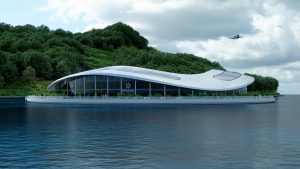 Abu Dhabi Proposed Vertiport
The site points out, "Assuming there is just 1 eVTOL deployed to each route, EH would be able to generate RMB 250mil per year in revenue, which already exceeds the record RMB 180mil in revenue generated in 2020. If EH hits its timelines as expected, revenue should be able to exceed 2020 levels once again by 2023-2024.
Meanwhile, Giancarlo Zema Design Group has been reminding eVTOL readers this week of its futuristic look of vertiports created especially for EHang's exciting future project in Abu Dhabi. A specialist in solar-power innovation, Hamamelis, has come on-board the project to redefine the scope of "a green, autonomous and eco-sustainable way of getting around."
Zema Design describes its Roger Deanesque type structures as, "An eco-sustainable project with organic and emotional shapes with large photovoltaic surfaces, multi-function, contains within itself a series of common areas, reception, cafeteria, restaurant, commercial and exhibition spaces, surrounded by green outdoor areas, embellished with Smart urban furniture by Luminexence.
"The 80 m diameter steel and glass structure with a recycled aluminum panel cover opens upwards, protecting from the wind and soundproofing the landing platform for electric aircraft towards the outside. The floor, with wireless charging, is made up of special latest generation non-slip photovoltaic panels, produced by the English company Solapave, capable of generating over 1.5 MW per day, which integrate inside LED plates for lighting and nocturnal signage.
EHang VT-30
"EHang's Hamamelis Vertiport, ideal both on water and on land, will be built in the United Arab Emirates, China and the United States, constituting a truly revolutionary infrastructural response to the growing Urban Air Mobility (UAM) market."
WOW!
For more information
https://www.ehang.com/ehangaav/