By Chris Stonor
EHang is rarely out of the news and this week the company announced it has received the first aerial media permit in Austria from the country's Civil Aviation Authority, reports a press release. The permit allows EHang to operate commercial aerial media drone light shows across all EU member states.
Last week, EHang conducted such an event of a brand promotion for Kaiserwinkl, a famous tourism area in Austria's Tyrolian Alps. The show deployed a fleet of 150 drones with small LED lights attached. The light shows are as small or as big as deemed by an event organiser with up to several thousand craft available.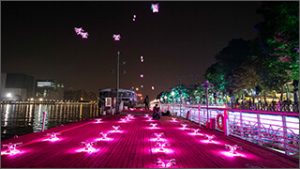 Aerial or drone light shows are becoming more popular as an alternative to fireworks and offers a futuristic style of entertainment, giving companies an unrivalled opportunity to tell their stories in the sky. Audiences can observe and enjoy aerial media shows from miles away and when combined with background music and live acts, the events are an excellent and creative marketing spectacle.
EHang is partnering with the event tech company, Concept Solutions, to leverage its existing customer base and develop new sales channels and customer relationships throughout Europe under the brand Dronepixel by EHang.  Andreas Perotti, the CTO of EHang Europe,  commented, "We see massive interest in our aerial light show from all over Europe."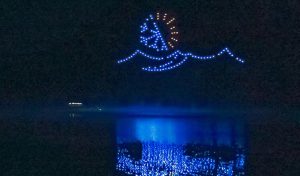 Meanwhile, an Ehang 216 AAV made a successful test flight under strong wind conditions at the Fukushima Robot Test Field in East Japan, proving once again that in a challenging climate , the craft is up to the task.
#EH216 made the test flight under the strong wind at the Fukushima Robot Test Field in East Japan. pic.twitter.com/OZKMffNU8p

— EHang (@ehang) December 14, 2021
For more information