By Chris Stonor
EHang's newsflow continues to dramatically improve "after a beating in February", when it was announced today that China's Guangxi Hezhou Municipal Government is investing USD307 million into the Ehang electric air taxi company to include finance to construct an "intelligent aviation demonstration city," reports Chinese social media.
EHang will work with partners to build an "autonomous vehicle industry city" to promote the development of China's urban air transport (UAM) industry.
It is expected the first group of projects will be completed and put into operation by the end of 2021, when Hezhou becomes the world's "first smart city with a commercialised operation of autonomous vehicles." EHang signed a co-operation agreement with the Hezhou government of Guangxi back in early 2020.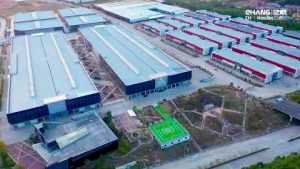 EHang is establishing an aircraft production base in Hezhou which includes a test runway, hangar and production plant.  After the construction is completed, the company expects to achieve an annual output of 30,000 UAVs.
It is reported the USD307 million investment will come from approved government special bonds, industrial funds and social fund-raising methods. This is not an equity investment, but instead will be used to help construct EHang's production base in Hezhou and the large-scale procurement of its UAVs to assist in creating "an intelligent air transportation demonstration city."
At present, Hezhou City has built a smart city management air command and dispatch centre, a UAM unmanned aerial vehicle take-off and landing base, a fully automated logistics vehicle test runway, and has been approved for a temporary flight airspace of 250 sq. kms, where the craft presently has 30 test routes.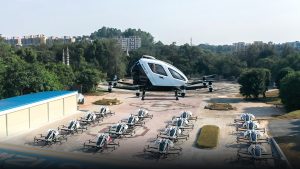 According to a "Nanguo Jinbao" report, Mayor Lin Guan of the Hezhou City Party Committee, said, "Hezhou will accelerate the planning and construction of the unmanned aerial vehicle industrial park for the production of a series of products, which are widely used in urban air traffic, urban fire protection, logistics and transportation, tourism, emergency rescue and other fields."
He continued,  "With EHang as the leading company in the region, Hezhou will create an intelligent aircraft industry cluster and improve the aviation industry of the future."
As good news arrives like buses for EHang, another major story broke today, reports fromgeek.com. The UAV company received confirmation of its biggest single order from a Korean customer for 50 passenger 216 air taxis. The order is believed to be worth over USD12 million dollars.
Not surprisingly, Twitter was agog at the news. For example, seabreeze tweeted, "This has so much tailwind and government support" and eHangfuture points out, " EHANG now has 2 upcoming large production facilities (in two different provinces) within 1-3 hours from its Guangzhou HQ, accessible via high speed rail."
The EHang share price has gradually stabilised after falling from a high of USD124 to low USD46 a share in one day last February after a damning report from a U.S analyst company . The present equity price hovers around the USD40 mark.
Visual presentation
https://www.youtube.com/channel/UCuehMeuZkXlUTD6iolx6nGQ
For more information