By Chris Stonor
EHang announced this week its partnership with the EU's AMU_LED (Air Mobility Urban – Large Experimental Demonstration) project to demonstrate the feasibility of UAM, reports a company press release.
Initiated by the EU, the project is, perhaps, the largest of its kind seen and includes 17 world leading companies related to the industry. Throughout 2022, EHang is to perform trial operations of the passenger EH216, its flagship two-seat passenger-grade AAV, in three countries: Spain, the UK and the Netherlands.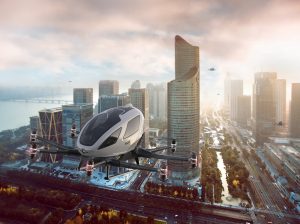 The release explains, "The AMU-LED is an H2020 project of the European Union framed in the SESAR (Single European Sky ATM Research) Joint Undertaking, with the ultimate goal of showcasing one of the largest demonstrations of mobility services with air vehicles and the safe integration of different types of drone operations, otherwise known as U-space, in urban environments to realize increasingly sustainable, smart cities by 2022."
More than 100 flight hours carried out over two years is planned. The trials begin this month. The AMU-LED will showcase passenger transport in air taxis, cargo transport, delivery of goods and medical equipment, inspection of infrastructures, police surveillance, and emergency services support.
Via this project, EHang will grow its interaction with European regulatory bodies including EASA (European Aviation Safety Agency) and EUROCONTROL, assisting "the formulation of relevant UAM policies and standards and contribute to the implementation of UAM in Europe." EHang's air taxis "enable smart city management, shorten the travel time of both people and goods, and reduce air pollution and traffic accidents."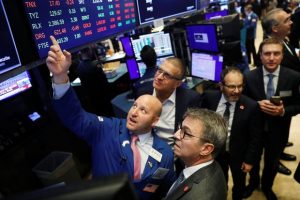 Certainly, EHang are enjoying the crest of a wave, at present, with its Stock Market share price soaring in recent months, bringing huge returns for investors, especially since the revelation this week of the new investment fund ARKX, specialising in Space Exploration. Similar to the Dot-Com share craze of the mid to late 1990s, increasing numbers of seasoned investors are pointing out that the "next thing" could be drone and eVTOL companies.
Previous UAMN Article on ARKX Investment Fund:
https://www.urbanairmobilitynews.com/market-analysis/drones-and-evtols-part-of-new-ark-invest-arkx-space-exploration-fund/
EHang is a world leader in this industry and has achieved many milestones in UAM development.  In Europe during 2020, for example, the company made regulatory breakthroughs by obtaining flight permits for the EH216 from the civil aviation authorities of Norway and Austria.  So far it has expanded its UAM Pilot City Initiative to three cities in Austria and Spain, and established strategic UAM partnerships with FACC, the leading Austrian aerospace company and Vodafone, one of the world's biggest telecoms and technology service providers.
Visual presentation
https://www.youtube.com/watch?v=qJTP7yexyN8
For more information