By Chris Stonor
EHang has announced it is establishing a partnership with Zaragoza in Spain. The city follows Seville and Llíria in Spain as well as Linz in Austria as part of the "European Urban Air Mobility (UAM) pilot city initiative", reports a press release.
According to the agreement, EHang and Zaragoza will "jointly promote the implementation of AAV demonstration projects in passenger transportation, aerial tourism, aerial logistics and other application scenarios under the framework of UAM strategic partnership."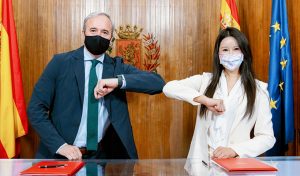 Mayor Jorge Azcon Navarro and Victoria Xiang
The release continues, "They will also collaborate on UAM infrastructure development such as command-and-control centre and vertiport. Both parties aim to build an aerial transportation hub in Zaragoza to advance sustainable and eco-friendly development for the city."
Zaragoza is the capital of North Eastern Spain's Aragon region and is the country's fifth largest city. With a population of 670,000, it overlooks the Ebro River, where in its centre lies the baroque Nuestra Señora del Pilar basilica, a famous pilgrimage site with a shrine to the Virgin Mary. Zaragoza actively promotes the development of urban air mobility as one of the members of UIC2 (UAM Initiative Cities Community) in Europe.
Victoria Xiang, CEO of EHang Spain & Latin America, commented,  "Zaragoza is a crucial transportation hub city for Spain and for all of Europe. As the forerunner of cutting-edge AAV technologies and know-how, EHang will lead innovation and build a sustainable and efficient 3D air mobility solution for Zaragoza." She added, "The partnership will benefit the citizens of Zaragoza by making life more enjoyable and environmentally friendly."
Mr. Jorge Azcón Navarro, the Mayor of Zaragoza, said, "In the future, the general public can enjoy the view of the Cathedral-Basilica of Our Lady of the Pillar, a national art treasure in Zaragoza, not only from an Ebro river boat but also from passenger-grade AAVs above the river."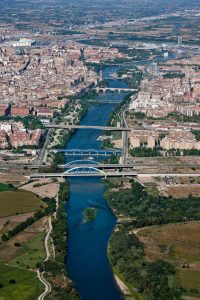 Ebro River
EHang plans to conduct flight tests and pilot projects at the Hera Drone Hub as well as along the Ebro River in Zaragoza. The partnership will also help the City to further develop UAM innovation strategy and lead the expansion of UAM in Europe.
 For more information