By Chris Stonor
Social media continues to rapture over the new EHang 'Fly into the Future" VT-30 craft. Everything from the cabin to the eight propellers are being closely scrutinised online by all and asunder. No doubt some of the media pundits involved are investors blatantly attempting to ramp the share price… That is a given (see video below). Yet, leaving this aside there is no other eVTOL on the planet that attracts so much publicity, interest and excitement from the general public as the EHang 216 or now the VT-30. Where else, for example, could you find such enthusiasm over a propeller tip?
Propellers Ahoy!
While the VT-30 is geared towards inter-city travels among city clusters such as Guangdong-Hong Kong, Macao Greater Bay Area and the Yangtze River Delta, the one major problem is that such craft can only carry, at present, two passengers at a time. Yet, during a recent Morgan Stanley EHang Virtual Conference, Edward Xu, the company's Chief Strategy Officer, hinted that the company already has plans to build a much larger AAV that can hold a lot more people.
At present, there are concerns over why the company has delayed the announcement of its annual financial results (EHang received a "notification of deficiency" from Nasdaq last week relating to its delayed filing), especially after the "damning report" from U.S. analyst, Wolfpack, in February. Nasdaq has notified EHang to submit a plan to regain compliance within 60 calendar days, or no later than July 19th. If this plan is accepted by Nasdaq, the company can be granted up to 180 calendar days from the 2020 Form 20-F's due date, or until November 15thto regain compliance.
EHang says it was not able to file the 2020 Form 20-F by its due date primarily due to "the additional time needed to complete the 2020 Form 20-F, as set forth in the Form 12b-25 submitted to the SEC on April 30th, 2021."
Couple this with the lawsuit by The Thornton Law Firm which has been filed on behalf of investors who bought shares between December 12, 2019 and February 16, 2021 and promptly saw their share value fall over 60 percent, the present share price may remain sluggish even though social media and its bullish investors are telling you otherwise.
Whatever happens during the remainder of 2021, EHang will remain the most talked about and written about eVTOL on the planet. Not only has its AAVs captured the public's imagination, but the craft are actually "flying physically" – and with passengers –  rather than its competitors "still deploying" futuristic-looking CGIs.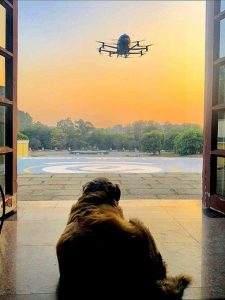 One drone and his dog
Meanwhile, EHang representatives are presently in Italy, discussing new UAM infrastructure ideas. What a dazzling "vertiport look".
Video rapture
https://www.youtube.com/watch?v=LcL3F_M862k
For more information