By Chris Stonor
EHang is making waves at the 2021 Viva Technology (VivaTech) Event. Not only was it the first company to be presented on the live-stream show, where a reporter sat inside the craft cabin and interviewed a company representative who explained about the AAV spec, present regulations and the full certification and commercialisation within two years, but President Emmanuel Macron later spent time closely scrutinising the 216 craft.
The pandemic has accelerated the demand for autonomous transport, says James Peng, CEO of https://t.co/x9ABrF032f. Edward Xu, CSO of drone manufacturer @ehang, added that his company is in talks with authorities to commercialize its vehicles within 24 months. #CNBCEvolve pic.twitter.com/Vs7BQBTaJ6

— CNBC Events (@cnbcevents) June 16, 2021
Previous UAMN Article about VivaTech 21:
https://www.urbanairmobilitynews.com/commentary/paris-france-13000-start-ups-3300-investors-welcome-to-vivatech-exhibition-june-16th-19th/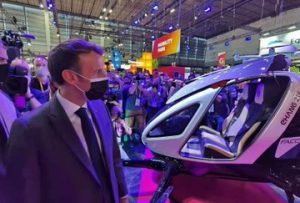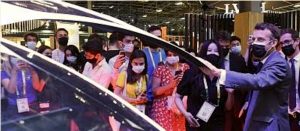 Followed by a milieu of media watching his every move, Macron, said some public members standing close to him, was impressed and even inspired by the 216 and afterwards spoke to the media outlet, Euronews Next, and commented that France will continue to "drive the innovation ecosystem."
Now the UK has left the EU, France is the European leader of the impending fourth industrial revolution. Although, compared to America and Asia, Europe remains behind the curve, but Macron is proud of France's progress.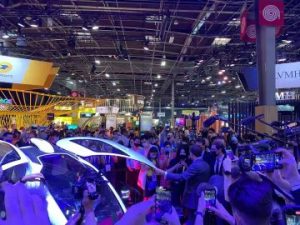 He explained, "Since 2017, Tech fundraising has doubled. We hit 5.4 billion in 2020, we're going to exceed that in 2021." He stressed the country could "not rest on its laurels," and went on,"We've tripled the amount of funds raised in bulk and we've created between 150,000 and 200,000 jobs. We have to go faster and harder, and in particular, deploy the same strategies that we have adopted at the European level".
Macron attended VivaTech to host a roundtable with European start-ups, where he discussed the policies Europe should adopt to build a stronger tech future.
Meanwhile, during the first day alone, EHang representatives were interviewed by 25 worldwide TV stations and its stand visited by more than 50 companies interested in using AAV services. Another politician who has visited the Chinese company is French Minister of Higher Education, Research and Innovation, Frederique Vidal.
Then on Day 3, Weina Wang, Business Development Manager of EHang Europe, described as "a great woman entrepreneur from Asia", was interviewed at length on the VivaTech live-stream, where she discussed the AAV company flying passengers around the Paris Olympic Games in 2024, delivering medical supplies to Chinese cities during the present pandemic, working closely with flight authorities in the U.S and Europe, while pointing out that Tech innovation "is moving faster in Asia."
Frederique Vidal
Here is a brief mobile phone video of the EHang stand taken on Wednesday, the opening day.
https://twitter.com/JCrz_/status/1405104901320024068
Visual presentation
 https://www.youtube.com/watch?v=W6rwDvVtiY8
For more information (the live-stream)
Finally… EHang Founder and Chairman, Huazhi Hu, says "Hi" to the VivaTech Event and offers his vision and strategic goals for the AAV company.
#EHang Debuted in the #VivaTech 2021 Conference in Paris. In a panel, Mr. Huazhi Hu, Founder, Chairman and CEO of EHang, sent his regards to the conference through a recorded video, and shared his vision and strategic goals of EHang for #UAM.
?https://t.co/E0eTYFH9KL pic.twitter.com/uFpa9DRZyb

— EHang (@ehang) June 18, 2021