By Chris Stonor
As a journalist, Twitter and Facebook are in particular, an excellent way of accessing the latest news, where you feel at least, you're on the cutting edge of the many 24/7 breaking stories and their ongoing developments.
EHang is, without doubt, the most popularly followed eVTOL aircraft on social media. Not only does the Chinese company enjoy a growing army of loyal followers, but as more and more purchase shares in EHang's "Fly into the Future" dream, so a keen interest in the company's development increases. UAMN has decided "to take on this mantle" and offer the "EHang Army" the latest updates, rumours and general chit-chat buzzing around social media.
So, get hold of that AAV door, jump on-board, and let us fly into that future.
Let's start with an unusual photo. An EHang 216 flying in the city night sky, followed by a video of this actual event.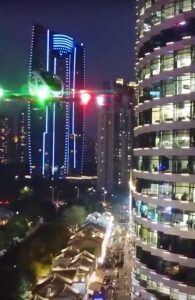 https://www.youtube.com/watch?v=bQ-lIgKepqE
Follow this by EHang's car and trailer specifically designed to carry a craft to exhibitions, demonstrations or general shows. It is a clever idea as the company can travel by road to any region of the world to exhibit, whether a remote Chinese village or a major European exhibition like VivaTech in Paris. Once the craft is taken out from its travelling hangar, the trailer is then transformed into an office/promotions centre where questions are taken from the public and general literature, photos etc.. viewed or handed out as leaflets.
While social media eyes are on EHang's 216 passenger taxi and now the new VT-30, the company is not just a two trick pony. Did you know, for example, that EHang's VT-20 is deployed by the Chinese police force to help monitor crowds and traffic? Last month a number of such craft were used by traffic cops at various Spring Festival events in Hezhou, a prefecture-level city in the northeast of the Guangxi.
Watch this Video
https://www.youtube.com/watch?time_continue=66&v=seksOfWheOI&feature=emb_logo
Or that EHang has a growing and profitable side-business performing drone light-shows? In fact, revenues increased last year by 113.5 percent. Not only are EHang expanding this business into Spain by the end of the year, but rumours abound that Latin America will soon be enjoying the "EHang visual feast."
https://www.youtube.com/watch?v=gR7k3MR46E8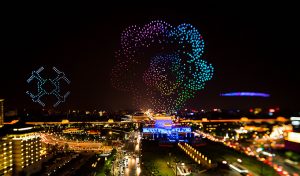 EHang Egret's 1374 drones dancing over the City Wall of Xi'an
(You will require the FREE Google Spanish to English translation service)
https://www.infodron.es/id/2021/05/18/noticia-rodriguez-ehang-podemos-sustituir-fuegos-artificio-sostenible-contaminacion-acustica.html?utm_source=dlvr.it&utm_medium=twitter
It seems that EHang may be using this business as a way of gaining further access into Spain, in particular, to construct both its 216 and VT-30 passenger craft. There are rumours that Seville may become a base for such activities. Watch this ADM Sevilla Webinar from May 31st, where Jose Ignacio Rodriguez, EHang Sales Director for Spain and LATAM, is on the panel.
https://www.youtube.com/watch?v=I6muOcal1B4
In recent weeks, UAMN has published two stories concerning EHang and the company entering the Mexico market. Los Amigos, a leading Mexican property developer with an eye on ecology, is constructing a vertiport within one of its latest property developments at Tulum. This is part of a projected EHang tourist operation for the area. The vertiport is called "Skyport Tulum" and is expected to be completed by the end of the year. Almost certainly, this will lead to further vertiport constructions in the near future.
https://www.urbanairmobilitynews.com/air-taxis/watch-video-property-developer-constructing-vertiport-in-tulum-mexico-for-ehang-216-aavs/
https://www.urbanairmobilitynews.com/air-taxis/ehang-demonstration-flights-planned-for-mexico-this-year/
While for potential investors, EHang was added on May 27th to the MSCI China Small Cap Index and MSCI China All Shares Small Cap Index.
Finally, for all EHang supporters don't forget to purchase the company's mug, T-shirt and sticker, found at every good online shop.