By Chris Stonor
The HUGE news this week that AirCar has gained "CAA certification of airworthiness" has prompted a relook at the U.S Florida-based LuftCar. While one is a car that transforms into a plane, the LuftCar is an eVTOL that morphs into a car.
The website h2.view.com published an interview this week with LuftCar Founder and CEO, Santh Sathya. He says, "It's an aerial vehicle, it's hydrogen-powered, it's both an air and road combined vehicle. In that sense, it's a flying car. But the purpose of LuftCar is to really democratise travel and to take this big chunk of market that's not being utilised, that's what I call regional transportation, which would be from 300 to 500 miles."
The eVTOL looks like the majority of eVTOLs. Yet, once it lands, the passenger compartment transforms into an electric-driven vehicle pod which sprouts wheels that is released from the main aircraft and then can be driven on roads. Unlike the AirCar whose design, shape and look is "pretty cool" once on the road, the LuftCar is not.
Sathya continues, "It is expensive to fly for short distances, particularly as an individual or as a family. It's also cheaper to travel by car whilst it also saves you time by travelling in a car because you don't want to wait in the airports for that distance."
Yet, "flying taxi" companies are saying the cost of flying short distances in the future will be comparable to today's road taxi fares and what about the growing urban congestion? Meanwhile, there is still that problem of "look". Given the common shape of an eVTOL passenger compartment, a vehicle pod is all it can be.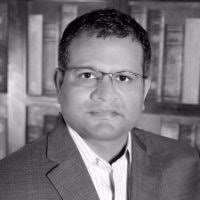 Santh Sathya
UAMN Previous Article:
https://www.urbanairmobilitynews.com/air-taxis/aircar-gains-caa-certification-of-airworthiness/
Sathya believes that apart from individual or family use, the LuftCar can also be a first responder like an ambulance or disaster relief vehicle. "It could be an air ambulance. It could be a disaster relief vehicle. It could also be a homeland security vehicle. This could be great police vehicles, being able to cover longer distances and then you can land and then you can do a road chase. You can have the road chase in the car which is going to be battery powered." It is hard to imagine the LuftCar vehicle pod chasing after a speedy criminal getaway car. Perhaps, by air?
Anyway, read the full interview below.
Read Article:
https://www.h2-view.com/story/the-hydrogen-powered-futuristic-flying-car-set-for-launch-next-year-luftcar-shares-how-its-technology-will-transform-the-mobility-market-just-like-the-ford-model-t/
Visual presentation
https://www.youtube.com/watch?v=KW63FPZGEeE&t=25s
For more information
(News Source: https://www.h2-view.com/)