By Chris Stonor
India's eVTOL start-up, ePlane, has raised USD5 million in a pre-series A funding round led by Speciale Invest and Micelio, reports inc42.com.
The company is developing "a compact flying taxi" that can transport passengers as well as cargo. To date, it has built a proof-of-concept craft that has a carrying capacity of six kilograms.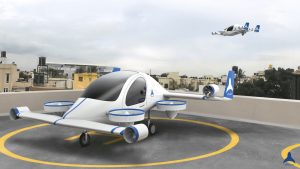 Other Series A investors include 3one4 Capital, UTEC (University of Tokyo Edge Capital), Anicut Capital, Infoedge, Thought Ventures, Java Capital and Firstcheque. Founded in 2017 by Satya Chakravarthy and Pranjal Mehta, ePlane will use these raised funds for research and development.
Mehta commented, "The USP is that we are making the most compact flying taxi in the world which has a hybrid design that uses both rotors and wings and a sub-scale prototype that enables it to fly slower than e-planes with compact wings would normally require."
He continued, "Further, our product will not have any dedicated infrastructure requirements and can make the city commute ten times faster at just 1.5 times the taxi fare."
Pranjal Mehta
ePlane says it will offer services at 1.5x the cost of a taxi road ride, but reaching a destination will be far quicker due to no road congestion and faster speed travel.
For more information
(News Source: https://inc42.com/)
(Images: ePlane)