By Chris Stonor
This is fantastic news for EHang fans, investors and AAM supporters. The eVTOL company expects its EH216 AAV craft to gain certification "within months" leading to the launch of "the world's first ever eVTOL commercial flights", reports futureflight.aero.
The company's new COO, Xin Fang, stated in a conference call this week that when the Civil Aviation Administration of China (CAAC) issues the airworthiness certificate, EHang will gradually expand production of the two-seat craft and initiate commercial operations in several Chinese cities.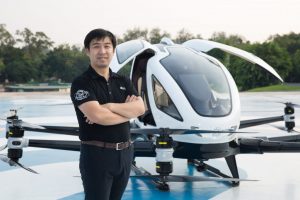 Huazhi Hu
"As part of its 100 Air Mobility Routes Initiative", writes futureflight, "EHang's operations team has conducted more than 4,000 flight trials with the EH216. The group's Founder, Chairman and CEO, Huazhi Hu, reported that the larger, longer-range VT-30 model has logged more than 50 flight test hours and achieved initial sales to customers in Japan and Malaysia."
Hu told investment analysts during the conference call, "Airworthiness certification for the EH216 is our top priority and we have made remarkable progress." He added that EHang now claims "more than 1,000 sales for the aircraft".
According to Xin, sightseeing operations will be among the first revenue streams for the company's EH216 flights, along with emergency applications such as firefighting. He explained that EHang is seeking to confirm partnerships with leading tourism groups in China. Nine operating sites have been identified.
For 2022, EHang forecasts annual revenues of between RMB 190 million and RMB 210 million (up to USD33 million), with most of this expected to occur in the second half of the year. In 2021, when the company prioritised work on bringing its new products to market over short-term sales, its revenue was RMB 56.8 million (USD8.9 million), significantly less than the 2020 total of RMB 180.1 million. It reported a gross profit of RMB 20.8 million (USD3.3 million), compared with RMB 73.9 million in 2020.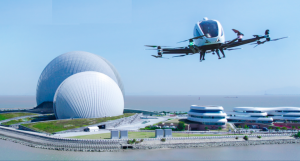 EHang shareholders must be breathing a massive sigh of relief as they have seen the company's share price experience "a mega-fall crash" from highs of USD129 to lows of USD8 in just over a year. This news "should" drive the share value upwards.
For more information
https://www.ehang.com/ehangaav/
(News Source: https://futureflight.aero)
(Images: EHang)