By Chris Stonor
Daniel Wiegand treads a tightrope. He enthusiastically talks about the development successes of the Lilium air taxi project; but he doesn't want to be too talkative either. It is too sensitive to reveal details about the status of the ambitious project. So it is to be seen as a willingness to provide information when the CEO and co-founder of the start-up from Weßling near Munich in conversation with the F.A.Z. Mentions details that are known internally but not yet officially leaked out: new flight tests, the presentation of the production aircraft, the speedy break-even point or the stock market plans as part of "Plan A".
Ambitious air traffic concepts like Lilium sometimes call skeptics on the scene who question the feasibility. Daniel Wiegand, 35 years old, does not contest public criticism of the jet project. He doesn't want it to be understood as defensive behavior if he gives an intermediate result – and speaks openly for his circumstances.
"We're on schedule," he says in a calm voice and smiles: "We just haven't communicated it yet. "The priority is to develop a vertical take-off vehicle with 36 electric engines and five seats, weighing around 1.5 tons. The Stromer of the air should fly 300 kilometers per hour and cover 300 kilometers.
Wiegand founded Lilium in 2015 with Sebastian Born, Patrick Nathen and Matthias Meiner; they know each other as aerospace engineers from the Technical University of Munich. Five years later, he sees Lilium GmbH as the "largest electric aircraft company in the world", based on the number of 600 employees.
In 2020, 250 employees were recruited from 100,000 applications. The workforce is expected to grow to 700 in 2021. It no longer has much to do with start-ups. And yet it remains one thing. With a valuation of well over USD1 billion, it has risen to become a "unicorn"; to the unicorn, as start-ups with a company value of more than $ 1 billion are called and of which there are not many in this country. Lilium raised USD285 million in 2020 alone; more than any other German start-up that year.  The financing is ready and sufficient for the next steps.
The company founder speaks about them in more detail for the first time. "Our goal is to get the first series aircraft approved by the end of 2023," he says. "In 2024 the first paying customers will enjoy our service, in 2025 we want to be operationally represented in several markets." So far, it has been said softly that Lilium wanted to start by 2025 at the latest. "In the spring we are going to the next round of flight tests with our demonstrator, then we want to get towards our target maximum speed of 300 kilometers per hour." And: "We are also introducing the production aircraft."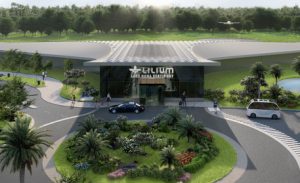 Off, but will be a little longer and have a higher payload. The first test flights of the demonstrator in October 2019 and afterwards brought new insights. The higher payload does not mean that more passengers should be accommodated in the passenger cell, which is similar in width to a Mercedes E-Class taxi. The interior and the seats should also be comfortable; that costs weight. The commercial version of the e-plane will have a cockpit. The pilot sits in front, behind him the four passengers take their seats. That is the difference to the taxi.  Wiegand always likes to compare the concept with that, as a Lilium flight shouldn't be more expensive than a taxi ride. For safety reasons, however, no passenger will sit next to the pilot.
Lilium has just agreed to cooperate with Lufthansa to train pilots. Additional training as a Lilium jet pilot is offered to already qualified commercial pilots. With all the knowledge gained, there was a lack of fortune in 2020.
In March one of two prototypes burned down in the hall on the factory premises of the special airport in Oberpfaffenhofen. A short circuit in batteries started a fire and caused a total write-off. The first important test phase had just been completed – we were lucky. Corona has left deeper marks. Three quarters of the employees have been working from home since then. Of course, it is a disadvantage if you don't work together in a team on site. Nevertheless, the working speed reaches 95 percent. The adverse circumstances mean that the second test phase will now begin in spring, not – as originally intended – at the end of last year.
Meanwhile, there is movement in the fields of activity that are to be developed parallel to the development. At the beginning of September, Lilium agreed with Düsseldorf and Cologne airports to develop concepts for hubs as part of a regional network in North Rhine-Westphalia.
The contract for the construction of a "Vertiport" in Lake Nona near Orlando in Florida as the first foreign location is even more specific. Further agreements to set up bases in connection with a route network will follow shortly, announced the CEO.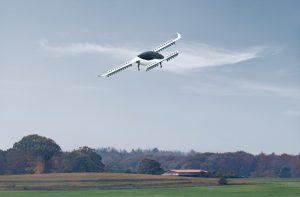 Worldwide there are discussions with around 50 locations, including ten in Germany; also with big cities. He doesn't say who from the big cities of Berlin, Hamburg or Munich is there. One thing is certain: a network with a hub should go into operation in two to three regions in 2025. These are compact systems with 6 to 8 gates and a take-off and landing area, where hundreds of passengers can be handled per hour. Such degrees are as important as the ongoing, but protracted approval process or the establishment of a "stable supply chain with established players", as Wiegand says.
Lilium is one of around 30 e-air taxi projects in Europe and almost 100 projects worldwide, according to management consultant Roland Berger. They seem to be racing with the Volocopter from Bruchsal, founded in 2011. It plans to launch a commercial air taxi service in the city-state of Singapore in 2023. There have already been the first test flights in open terrain there. Lilium and Volocopter are considered to be the flagship of German innovations.
The two differ in appearance alone, as the Volocopter with 18 rotors resembles an ultralight helicopter. But the concepts also address different markets. The people of Bruchsal are aiming for a taxi model, the people of Munich are aiming for a regular shuttle service.
"A Lilium Jet in the air is like the ICE on the ground," says Wiegand. "With the big difference: the roof of a parking garage is enough for us as a take-off and landing area." That increases flexibility. "In direct comparison, a train journey may be more energy-efficient, but in terms of the overall energy balance, in view of the complex construction of the rail infrastructure, the electric aircraft is the most environmentally friendly means of transport – apart from the bicycle."
Wiegand is convinced that this can be used to make money. "Our investors see it that way too," he says. "We will have a high occupancy rate, because unlike a taxi with individual trips, our model is based on a shuttle service."  A pilot is much more expensive than a taxi driver. To do this, he achieves twenty times more passenger kilometers. That means: "When we are on the market, we want to operate profitable routes within the first two years; this is what the business plan provides." Even a short distance from Munich Central Station to the airport, which is poorly connected by public transport, could be worthwhile.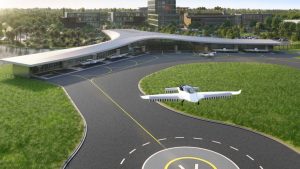 And yet there has been a lot of skepticism about the validity and feasibility of this concept: Doubts about the schedule, advances in approval, about the range, about the weight calculation, about speed. A lack of transparency was criticized, fueled by a lot of secrecy on the part of Lilium itself.
Whereby: Wiegand asks who is looking into technical matters in the midst of development.  Mirko Hornung is behind the criticism, accompanied by critical reports in specialist magazines; Aviation expert and professor at the Technical University of Munich, who supports many innovative student projects such as that of the Horyzn vertical takeoff. A critic appears, which in aviation is considered a capacity and authority. That gives weight to the allegations.  "Mr. Hornung has not yet accepted an invitation from us," Wiegand replied. His team wanted to talk to him about facts and the wrong calculations on which the criticism was based. "I very much regret that, because we have all known each other since our student days."
Long before Lilium was founded, the students had contacts with Hornung. But: "I don't want to have a public mud fight here, that's the last thing we need." New attempt: "That's why I continue to invite Mr. Hornung to come to us."  And Wiegand cherishes the hope: "The transparency and thus the validity of the project will inevitably result when we present the flight tests, further agreements on setting up hub networks and strategic partners."  He knows the backers, the 60 percent hold on to Lilium; the rest is in the founding hands. The Internet company Tencent from China is the largest financier; Venture capitalists Atomico, LGT, Freigeist, Obvious Ventures are there, as well as tech investor Frank Thelen as one of the first. In the summer, a well-known name was added with the British Baillie Gifford.
"All of our investors stay on board because they not only experience market entry, but also want to increase the value of their involvement," says Wiegand. "Talks with others are ongoing; when the time is right, we will get them on board. "In the past three years, almost $ 400 million have been collected. "We need this order of magnitude again in order to start series production in three years."
Lilium plans to manufacture several hundred jets a year; in Oberpfaffenhofen, where the 10,000 square meter halls are located, but also abroad. Then it comes to "scaling", as Wiegand says. The jet should be a platform for a whiz with about 15 seats, why not for a 60-seater too. Imagination?
The answer is clear: "An IPO after entering the market is part of Plan A." That is an expression of the growth perspective. "The capital market can provide a lot more money – for example, if we launch a second aircraft program."
Visual presentation
https://www.youtube.com/watch?v=te7J9f4f7ZU
For more information
(News Source: https://zeitung.faz.net)