By Chris Stonor
This is a fast moving story!
After news broke late last week that UK company, Vertical Aerospace, had secured an "up to" 500 eVTOL order from Avolon, both Virgin and American Airlines swiftly followed suit bringing the present total orders now to around 1,000, reports business-live.co.uk.
Recent UAMN article on Vertical Aerospace:
https://www.urbanairmobilitynews.com/air-taxis/avolon-vertical-aerospace-disclose-worlds-groundbreaking-order-for-evtol-aircraft-to-date/
This is a fantastic step forward for the Bristol Aerospace company led by the highly competent and amiable Stephen Fitzpatrick who plans to float on the New York Stock Exchange via a SPAC with Broadstone Acquisition Corp owned by business tycoon, Hugh Osmond, later this year. The value of the potential 1,000 pre-orders is close to USD4 billion.
The business has also secured investment from Microsoft's venture capital fund M12, American Airlines, Avolon, Honeywell and Rolls-Royce. European Internet company Rocket Internet and 40 North, a related investment business of Standard Industries, also have a stake in the company.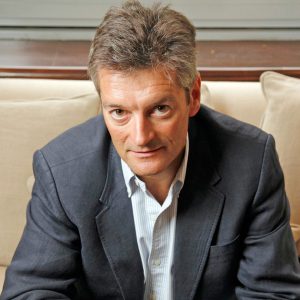 Hugh Osmond
Hugh Osmond, Chairman of Broadstone, commented, "Transportation is one of the next big sectors of the global economy to be disrupted at scale. Vertical has a clear commercial plan to challenge short-haul air travel, and to create new markets where neither cars nor public transport can cope with demand."
The Aircraft company is planning to develop and launch a Virgin Atlantic-branded short-haul eVTOL network in the UK. The partnership includes an option for Virgin Atlantic to acquire up to 150 eVTOL VA-X4 aircraft. Meanwhile, Vertical is planning to work with Virgin Atlantic to launch its electric aircraft at UK airport hubs including Heathrow, Manchester and Gatwick. The company said it would also work with American Airlines on passenger operations and infrastructure development in the US.
Derek Kerr, Chief Financial officer of American Airlines, said emerging technologies were "critical" in the race to reduce carbon emissions. "For years, America has led the industry in investing in newer, more fuel-efficient aircraft," he said. "[This] partnership is another example of that commitment and an investment in the future of air mobility."
To excite potential investors, Vertical Aerospace is targeting profitability and cash flow breaking even with annual sales of fewer than 100 aircraft. The business has assembled an in-house engineering team with backgrounds from senior levels of Rolls-Royce, Airbus, UK Ministry of Defence, Jaguar Land Rover and General Dynamics.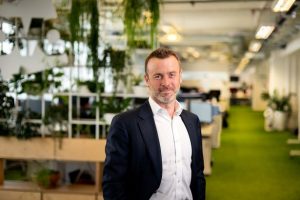 Stephen Fitzpatrick
Fitzpatrick, commented, "This is the most exciting time in aviation for almost a century. Electrification will transform flying in the 21st century in the same way the jet engine did 70 years ago."
Footnote
Vertical Aerospace was founded in 2016 by Ovo Energy boss Stephen Fitzpatrick to develop "the world's first eVTOL aircraft." According to the founder, the vehicle is able to carry four passengers for 120 miles at speeds of more than 200mph. While currently in development, flight testing is expected to take place this year, followed by certification in 2024 and initial commercial services starting shortly afterwards.
Editor's Viewpoint
Certainly, with a plethora of eVTOl companies coming to market over the next few years, investors may find it difficult to choose the long-term winners. Yet, after watching the video below, where Fitzpatrick oozes success and competency, along with the already sizeable company orders, high profit margin and major business support, Vertical Aerospace should be in everyone's future share portfolio.
Visual presentation
https://www.youtube.com/watch?v=dOhM9xlwOKE
(News Source: https://www.business-live.co.uk)