By Chris Stonor
On Monday (March 21st), Volocopter proudly became "a two-time pioneer" as the first eVTOL developer to conduct both crewed and remotely piloted test flights in France, reports a press release.
The crewed flights are part of a series of week-long urban air mobility (UAM) trials which offer Volocopter and its partners (Groupe ADP and RATP Group), key insights to launching the UAM industry in readiness for the 2024 Paris Olympic and Paralympic Games.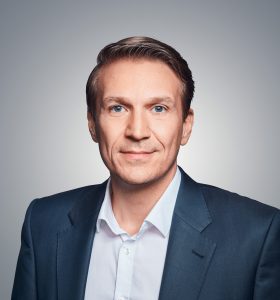 Christian Bauer
Volocopter's full-scale testing prototype, the 2X, was employed to perform successful flight tests at Pontoise Airfield in Paris to measure the aircraft's noise emissions. This data is to be used by the company's partners to shape the future of UAM services in and around Paris.
Christian Bauer, CCCO of Volocopter, commented, "We have demonstrated our pioneering power once again. By flying our aircraft in a crewed configuration at a Paris airport, we are proving to one of our launch cities, first-hand, that the craft offers a practical addition for potential airport-to-city routes."
Volocopter first flew its uncrewed eVTOL in France at the Paris Air Forum last June. Together with its partners, the company is gearing up for commercial launch in the next 2–3 years.
Seen as an addition to existing transportation options, the release says, "UAM supports the development of environmentally friendly mobility solutions and will offer cities worldwide a unique mix of urban multimodal transportation systems."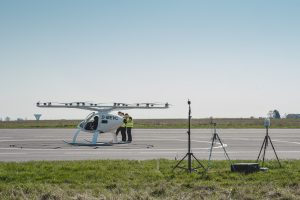 It goes on, "The UAM testing sandbox at Pontoise airfield addresses the challenges of this new form of mobility directly by assessing UAM solution use, acceptability, regulations, technologies, and industrialization. Furthermore, the airfield offers a real and secure aeronautical environment in a suburban area, 35 km northwest of Paris."
For more information
(Images: Volocopter)