By Chris Stonor
On September 22nd and 23rd, Horizon Urban Air Mobility is holding a virtual symposium to showcase its recent research carried out at the German Aerospace Centre (DLR). Subject areas under the heading of  "Institute of Flight Guidance" cover UAM vehicles, infrastructure and service operations as well as looking at ways of assisting public acceptance towards future UAM transportation.
Participants include DLR Institute of Flight Systems, Combustion Technology, Aerospace Medicine, Atmosphere Physics and Flight Guidance.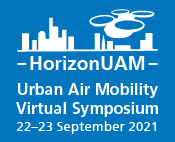 The symposium is FREE and open to the general public.
To Register:
https://dlr.expert/horizonuam2021
Footnote
This three year DLR project analyses possible UAM market scenarios up to the year 2050 and assesses economic aspects such as the degree of vehicle utilisation or cost-benefit potential from an overall system model.
Furthermore, the system design for future air taxis is carried out on the basis of vehicle family concepts, onboard systems, aspects of safety and security as well as the certification of autonomy functions.
The analysis of flight guidance concepts and the sequencing of air taxis at vertiports is another central part of the project.