By Chris Stonor
South Korean, Hanwha Group, is speeding up development of its urban air mobility (UAM) business and aiming to launch it by 2025, reports koreatimes.co.kr.
In cooperation with U.S. aircraft manufacturer Overair, Hanwha is jointly developing the Butterfly eVTOL, which has a maximum speed of 320 kms per hour, capable of traveling from Yongin to Gwanghwamun Square in just 15 minutes or from Gwanghwamun to Incheon in 20 minutes.
The Butterfly is equipped with Hanwha's radar, sensors and aviation electronics technology and four electric Overair tilt-rotors capable of vertical take-off and landing (eVTOL). The Butterfly is 100 percent electric, very quiet by emitting less than 65dB of noise, compared to conventional helicopters which produce over 150dB of noise. The noise level is similar to that of a luxury sedan that makes 70dB of noise.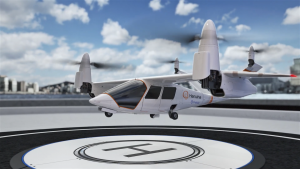 Not only is Hanwha jointly developing UAMs, but also involved in creating related infrastructure like vertiports and aims to provide total mobility solutions in cooperation with leading companies in the field.
In January, Hanwha Group signed a Memorandum of Understanding (MoU) with Korea Airports Corp (KAC), SK Telecom and the Korea Transport Institute to establish a UAM business model and ecosystem.
The Hanwha affiliate also plans to launch the world's largest vertiport, a city terminal for the take-off and landing of air taxis, at Gimpo International Airport in southwestern Seoul, in cooperation with KAC. Hanwha is looking at the bigger picture to export its services overseas and in May, the company signed another MoU,  this time with UK Skyports to develop air taxi infrastructure.
Although the future of UAM services is highly promising, critics believe it will be difficult to find success in the local market. An industry official stated, "Hanwha is most likely focusing on the overseas market to export its UAM technology, as its operations in Korea will be very limited due to strict regulations." The official added, "Also, there are many military bases all around Seoul and designated no-fly zones."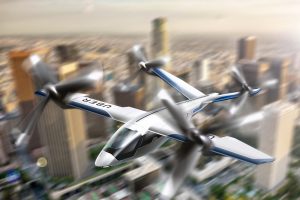 Footnote
Overair is a spin-off from Karem Aircraft and located in California, USA. Overair became its own independent company in January 2020 and is making the Butterfly production prototype.
Visual presentation
https://www.youtube.com/watch?v=em6OJpEx55g
For more information
https://www.hanwha.com/en.html
http://www01.koreaherald.com/view.php?ud=20200115000671
(News Source: www.koreatimes.co.kr)