By Chris Stonor
Volocopter has published a white paper this week, entitled, "The Roadmap to Scalable Urban Air Mobility", outlining what is required to operate a complete ecosystem to enable Urban Air Mobility UAM), reports a company press release.
Volocopter is the first electric air taxi developer to gain Design Organisation Approval by the European Union Aviation Safety Agency (EASA), which places the company in a strong position. A commercial launch should occur by 2024.
The company has lain out the key steps to both launch commercial air taxi services in cities and build the necessary supporting ecosystem to scale the UAM business.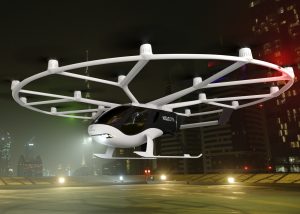 Florian Reuter, CEO of Volocopter, said, "The company is leading the pack for implementing UAM internationally. With our VoloCity, we can fit into the existing ecosystem well enough to get started in the next 2-3 years."
He continued, "However, in order to subsequently scale our operations in a safe and efficient manner and offer a fantastic experience to our customers, we need to establish a comprehensive and integrated UAM ecosystem. This is what we are doing together with our partners." 

The White Paper confronts the current challenges facing the eVTOL industry with solutions focused on "a holistic partnership approach for introducing this next dimension of mobility."
This new and second White Paper gives a glimpse into "the complexity of the ecosystem around the aircraft", offering an overview of what UAM is, what progress has been made, and how Volocopter plans to implement their services in cities like Singapore and Paris with a scalable business approach.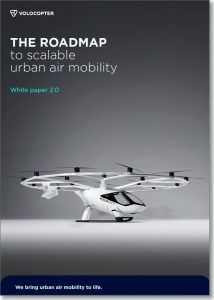 Key points in the paper:
The UAM industry is expected to have a USD11.3 trillion 

addressable market by 2035 with a €241 billion market potential. 

Over half of the market potential 

lies in passenger mobility (e.g., VoloCity air taxi services), and the 

rest is covered by logistic-type, cargo services (e.g., VoloDrone 

services).

Strong partnerships and an ecosystem strategy will play a pivotal 

role for entry into the electric air taxi market and setting a 

precedent for future UAM services.

  

The most successful approach will put the customers first in all 

critical areas including safety, infrastructure, aircraft design, air 

operations, city integration, and acceptance.

Volocopter supports the high safety standards for air taxis defined 

by the EASA's SC-VTOL and the progress with concurrent type 

certificate validation from the Federal Aviation Administration (FAA) 

in the US and the Civil Aviation Authority of Singapore (CAAS)

Digitalisation and autonomous flight will help decrease prices for 

air taxi services in the long-term.

Volocopter is already underway to 

ensure that the aircraft produced can fly autonomously and that all 

various components of the UAM ecosystem can be connected using 

a digital backbone and platform, VoloIQ.
The PDF of the complete White Paper "The Roadmap to Scalable Urban Air Mobility" is available to download below.
Download White Paper
https://press.volocopter.com/images/pdf/Volocopter-WhitePaper-2-0.pdf
 Visual presentation
https://www.youtube.com/watch?v=-phq8oepWjU&t=1s
For more information