By Chris Stonor
Hyundai has "spun out" its eVTOL air taxi business into a newly formed company called Supernal, reports newatlas.com. Supernal means "celestial, or pertaining to the sky, or of exceptional quality or extent". The company expects its aircraft to enter service in 2028.
Under the strapline, "Supernal: We know the future because we make it", its first aircraft, the company says, will not begin the certification process until 2024, when cutting-edge companies like Joby Aviation are planning to start their services. While four years behind the leaders, there are benefits holding back re: new technologies like this. No.1 you can learn from the early errors your competitors make, for example. They become your FREE marketing.
Another thing the company may be waiting for is the ability to run passenger missions autonomously, as Supernal says its aircraft will be autonomous-capable from day one. Another, could be down to the maturity of hydrogen fuel cell systems. South Korea, as well as Japan, are famously bullish on building a "hydrogen economy" and Supernal lists hydrogen powertrain specialists HTWO as one of its key partners in the air mobility venture.
Even so, the company wants to make the most of its high-volume automotive manufacturing heritage, with as much automated production as is practical. It's working with Boston Dynamics to "improve all aspects of [its] supply chain and operations," and says it's gearing up to produce eVTOLs "at an unprecedented rate for the aerospace industry."
And with offices in Washington D.C. and across California, Supernal is also getting involved in the legal and political side of air mobility in the U.S as well as working on swarm and air traffic control.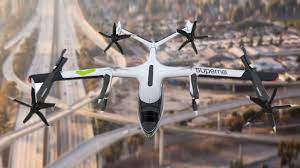 Hyundai group's vision is one of a total multi-modal transport ecosystem, all linked, coordinated and booked through a single app. For example, a ride on an electric scooter from the office to the vertiport, then an eVTOL over the top of city traffic, followed by a rideshare car to your door. Concluding, newatlas.com writes, "Hyundai, through its many subsidiaries, wants to build all the individual pieces and link them together with smart software to control the user experience end-to-end."
Visual presentation
https://www.youtube.com/watch?v=Bmn3MUEMYtA&t=2s
For more information
https://www.hyundai.com/au/en/why-hyundai/concept-cars/urban-air-mobility
(News Source: https://newatlas.com/)