By Chris Stonor
The last few months for Swiss HEV/STOL company, Manta Aircraft (MA), has been highly successful. Manta was one of UAMNs  "Ones to look out for in 2021" and certainly this exciting enterprise has not disappointed.
Since November, for example, publicity and agreements have come thick and fast. First, the company signed up three partnerships for the development of its personal ANN craft with Kineton, Pantecnica and Powerflex. Manta's website states, "They bring their know-how and expertise in the fields of software development with particular focus on HMI (Human-Machine Interface) and connectivity."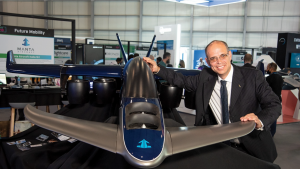 Lucas Marchesini at Dubai Airshow
Then MA attended the Dubai Airshow which proved to be a great success for them, wowing the large crowds with its futuristic-looking prototype and gaining the adulation of the media.
https://www.timesaerospace.aero/news/events/dubai-airshow-manta-a-force-to-be-reckoned-with
Even H.H Sheikh Hamdan Bin Al Maktoum, Crown Prince of Dubai, accompanied by his Highness Sheikh Mansoor bin Mohammed alongside other dignitaries paid a visit to the Manta Aircraft trade stand.
The following day came a MoU agreement with Foviatech. "This company," says a press release,"specialises in smart aerospace digital transformation using AI/AR and Graphene applications to support automation, digitization with artificial intelligence, and end-to-end machine learning adaptable to Production and MRO processes."
The MoU will see Manta and Foviatech explore the integration of AI solutions on eVTOL aircraft to optimise flight controls as well as implementation of AI quality inspection during the final assembly line, and digitalisation of engineering validation at the back end and engineering manuals automation.
Marchesini Signing Agreement with Foviatech
Lucas Marchesini, Manta Aircraft CEO said, "We have been thoroughly looking at utilising AI and other next-gen technologies to be used during the design and production process to streamline and optimise solutions for our overall proposition."
Sowmya Thyagarajan, CEO of Foviatech, added, "We have been evaluating several eVTOL companies globally, and we are confident that we have the right partner with Manta. Their aircraft's design is futuristic, advanced and agile. These are the key elements that define the applications of our software and hardware technologies."
In early December, Manta gained two further partners, this time with Skygate and Digisky to create an AAM ecosystem for its craft.
https://www.lastampa.it/tuttoscienze/2021/12/08/news/dal_mini-shuttle_al_taxi_volante_decollano_le_meraviglie_del_made_in_italy-1134678/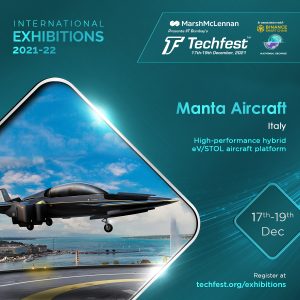 To end 2021, Manta is attending India's Bombay Techfest IITB event which starts tomorrow (Friday) and ends on Sunday (December 17th-19th).  Doors open from 8am to 11.59pm. This event is now viewed as "one of Asia's largest science and technology festivals".
The publicity says, "Experience the familiar IIT Bombay campus in a setting that is worlds apart. Attend the multitude of events in a 3D free-roaming environment." Make of that how you will.
"Manta Aircraft: One for 2022?" Why not.
For more information
https://twitter.com/Techfest_IITB
For further information