By Chris Stonor
This is quite a coup for verticalmag.com. An interview with Balkiz Sarihan, Head of Airbus UAM Strategy Execution and Partnerships, who discusses the much-vaunted City Airbus NextGen with its first flight targeted for 2023 before joining the Paris Olympic Games the following year. The project builds on the work of the manufacturer's two prior eVTOL demonstration programs: The 2.3-tonne quadcopter CityAirbus Alpha and the tilt-wing Vahana.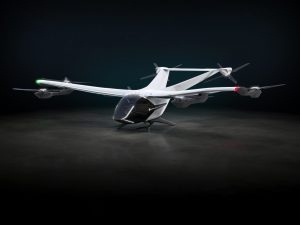 Here is a taster.
Sarihan: "We really tested the boundaries of speed, of aerodynamics, of noise and, of course, power (with Vahana and CityAirbus Alpha). If you look at the previous two programs, this is a blend of what we consider to be the best of both worlds. NextGen is the best structure and architecture for distance, of course, but you have full hover. There is no compromise on this."
This is a good interview which covers the reduction of craft noise due to the Blue Edge canted rotor blades, the ongoing trials at Pontoise Airport, the mapping of routes and vertiport locations, with all eyes on certification and EASA's Special Condition VTOL enhanced category, targeted for 2025.
Worth a perusal.
Read Interview
https://verticalmag.com/news/cityairbus-nextgen-evtol-development-continues/