By Chris Stonor
News broke last week that the highly successful Volocopter CEO, Florian Reuter, is leaving the company in September and is to be replaced by former Airbus Defence & Space boss, Dirk Hoke.
Previous UAMN Article:
Volocopter CEO Florian Reuter leaves company, hands over reins to ex-Airbus Defence & Space boss Dirk Hoke
The company retweeted this interview with its departing Chief Executive, published on the cfi.com website, on Monday. Reuter uses colourful language like 'The move into the third dimension will trigger a fundamental shift in our mobility system,'  'Volocopter champions transparency, open communication, and flat hierarchies…' and 'One core vision is "pragcellence," a word we created that means "pragmatic excellence"'.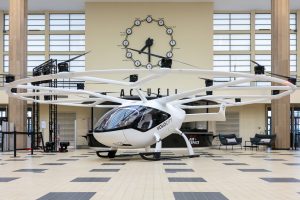 The interview is fairly brief and was carried out before news of his departure.
Read Interview:
https://cfi.co/menu/corporate/2022/02/florian-reuter-volocopter-pragmatic-excellence-transparency-and-the-world-of-urban-air-mobility/
For more information
(News Source: https://cfi.co/)
(Photos: Volocopter)