By Chris Stonor
Japan is determined that come 2025, visitors to the Osaka World Expo are to be transported around by flying taxis at a rate of 20 flights per hour, connecting eight potential destinations at the event, reports eurasiantimes.com.
The Osaka Expo, which is estimated to attract 28 million people, is viewed as a perfect launchpad for eVTOLs and will arrive "hard on the heels" of flying taxis being used a year earlier at the Paris Olympic Games. It has been previously reported that Tokyo is formulating a plan to carry passengers between Kansai International Airport and the Expo site using such eVTOLs. The distance is over 30 kilometres.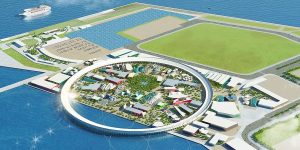 (Image: Japan Association/via Kyodo) 
According to this latest report, Yumeshima, Osaka's artificial island and the site of the World Expo, would be connected to airports and other areas in and around Osaka, Kobe and Kyoto by flying taxis. Officials describe the project as Japan's first passenger-transporting eVTOL network.
The city of Osaka, the Osaka Bay area, Osaka International Airport, or Itami Airport and Kansai International Airport are all possible destinations for these craft. The city of Kobe, as well as Kobe Airport, are popular tourist destinations, the report says. Awaji Island near Kobe, as well as the region surrounding Kyoto and Ise-Shima, are apparently other potential places.
The Japanese government is pitching the new proposal to the corporate sector. Since the beginning of the latest fiscal year, a working committee led by the Japan Association for the 2025 World Exposition and the Ministry of Economy, Trade and Industry has been studying the plan.
Manufacturers and potential operators will be chosen this year and contracts for craft development and operation is to be granted to a number of competitors. Candidates for vertiport management will also be selected as part of the project alongside the determination of routes and fares.
Present obstacles include air regulation and construction standards for vertiports that need to be resolved for the commercialisation of flying taxis to occur, especially when planes, helicopters and even drones will all be flying in the same region.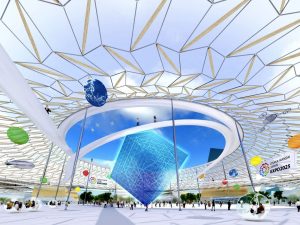 (Image: Japan Association/via Kyodo)  
This regulatory framework will be developed by the Ministry of Land, Infrastructure, Transport and Tourism by the latest 2024. The aim is to demonstrate the viability of eVTOLs during the World Expo. Various companies are looking at Osaka '25 with enthusiasm. These include EHang, SkyDrive, ANA, Volocopter and Joby Aviation.
Both ANA and JOBY have said in a joint statement that travelling by flying taxi from central Osaka to Kansai Airport, for example, would take only 15 minutes, compared to an hour by other modes of transport.
Meanwhile, Avolon, an Irish-based aircraft leasing company, has signed an arrangement with Japan Airlines (JAL), where JAL is able to buy or lease up to 50 Vertical VA-X4 eVTOL aircraft. A further 50 units will be available for purchase or lease. JAL is planning to begin operations in April 2025, to cater to the Osaka Kansai Expo.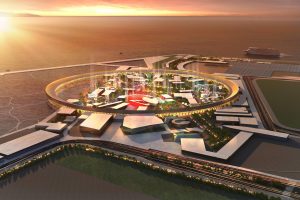 For more information
https://www.expo2025.or.jp/en/
(News Source: https://eurasiantimes.com)
(Top pic: METI/Ken Okuyama Design)