By Chris Stonor
Competition is heating up amongst companies offering personal air transport and Tetra Aviation announced recently, it is now taking reservations for its craft where potential clients are to be consulted on the design of its single-seat eVTOL aircraft, reports newatlas.com. Meanwhile, the Japanese company is seeking experimental aircraft approval from FAA as a first step towards later Part 23 type certification and hopes to begin delivering to buyers next year.
Japan-based, Tetra Aviation, won a USD100,000 "disruptor award" at the GoFly personal flight contest last year, and has now presented its first commercial product at OshKosh, a 33-rotor Mk5 personal eVTOL.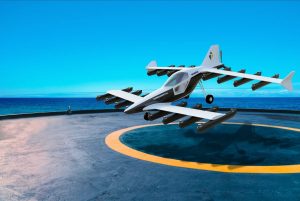 The Mk5 is a lightweight single-seat lift-and-cruise-style aircraft running 32 vertical lift rotors distributed across long, thin wings at the front and rear of a small cabin, with a single pusher prop on the rear for cruise flight. Its frame is primarily aluminium, and the bodywork a lightweight carbon fibre reinforced polymer with some aramid fibres included.
The prototype shown at OshKosh this year that has already flown, is a good size at 28.2 feet wide, 20.2 ft long, and 8.2 ft high. With a 13.5-kWh battery pack, it weighs 1,076 lbs empty and has a maximum take-off weight of 1,250 lbs, leaving room for an approximate 174-lb to include the pilot.
The actual production version is designed to take at least a 200-lb pilot, and fly at cruise speeds up to 100 mph for VTOL ranges as far 100 miles on a single charge.
Safety-wise, Tetra is to employ at least three redundant flight controllers, capable of redistributing power across its 32 vertical lift props in the case of motor or flight controller failure as well as a standard ballistic parachute if all else fails.
Tetra aims to construct the aircraft as a kit, and sell them as home-built experimental craft, meaning you'll be able to fly one on a private pilot's license in the US. The company is also planning to sell complete aircraft and looking to certify it as well. No prices are available as yet.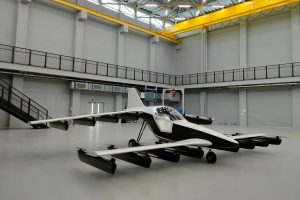 There are a growing number of manufacturers now pushing "buy 'n' fly" personal eVTOL products that should be available, realistically, in the medium term.
Visual presentation
https://www.youtube.com/watch?v=700d2SJJnl8&feature=emb_imp_woyt
For more information
https://www.tetra-aviation.com/
(News Source: https://newatlas.com)