By Chris Stonor
Dubai-based Jetex, an aviation trip support company, and Eve Urban Air Mobility (UAM), an Embraer company, signed a Memorandum of Understanding (MoU) last week aimed at developing the UAM ecosystem.
The article says, "With their global expertise, Jetex and Eve will explore the possibilities to develop UAM infrastructure in various locations and map potential operations in different environments."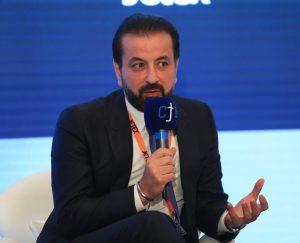 Adel Mardini
A leader in aviation customer service, Jetex is "to use its experience to design a seamless passenger journey, which will be aimed at utmost comfort and convenience." Jetex will also work closely with different authorities to ensure that the new concept complies with local regulations and requirements.
Adel Mardini, Founder & CEO of Jetex, "Our company is a recognised leader in innovation. we always seek new ways to integrate fresh concepts and this new partnership allow us to support Eve's aircraft and product development process."
Backed by Embraer's 50+ year history of aircraft manufacturing and certification expertise, Eve is an excellent partner offering varied products and services.
For more information
(News Source: https://www.cbnme.com/)