By Chris Stonor
Joby Aviation announced this week it is tantalisingly close to being awarded Part 135 of the Air Carrier Certification from the Federal Aviation Association (FAA), reports a press release. The eVTOL company is now beginning stage four of five exacting steps.
Part 135 is required for Joby to operate its S4 as an air taxi service in cities and communities around the U.S. The release explains, "Alongside a Type Certificate and Production Certificate, this is one of three regulatory approvals critical to the planned launch of Joby's all-electric aerial ridesharing service in 2024."
After filing the initial application for a Part 135 in June 2021, Joby completed the second stage last August, which included submission of a complete package of manuals. The third and fourth stages involve "FAA review and approval of manuals and FAA observation of the company performing operations to ensure full regulatory compliance."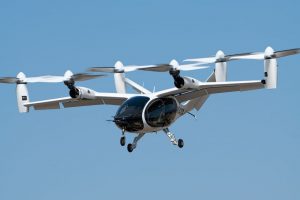 Last week, Joby began the fourth stage of this process, with FAA representatives presently observing Joby's initial "cadre of pilot instructors as they demonstrate mastery of training and operational procedures using the company's prepared manuals and training program."
The Holy Grail or fifth phase is FAA final approval and issuance of the Part 135 certificate. Joby expects to complete this last step towards the end of this year.
Bonny Simi, Joby Head of Air Operations and People, commented, "Our aspiration is to not just build and certify a revolutionary aircraft, but to operate a commercial passenger service that saves people time with minimal impact on the environment." She added, "Achieving a Part 135 certification unlocks the ability to do that, and we're moving through the process ahead of schedule."
Joby recently announced a partnership with CAE, a global leader in aviation training, to develop and qualify flight simulation training devices that Joby will use to train commercially-rated pilots to fly the Company's eVTOL aircraft.
Previous UAMN Article:
Joby aviation collaborates with CAE "for eVTOL aircraft pilot training"
Footnote
California-based Joby Aviation is leading the eVTOL revolution. Its aircraft has a maximum range of 150 miles on a single electric charge and can transport a pilot and four passengers at speeds of 200 mph. Joby employs close to 1,000 people with offices in America and Germany. It intends to operate a commercial air taxi service from 2024 onwards.
For more information