By Chris Stonor
Kenya Airways announced last week that it is to launch a flying taxi trial service in 2025, reports businessdailyafrica.com. This is part of the airline's diversification through its new subsidiary Fahari Aviation.
The national carrier has formed the Fahari subsidiary, to target new areas of revenue including a training course for those interested in operating drones for surveillance and agricultural support.
Allan Kilavuka
Allan Kilavuka, CEO of the airline, commented, "eVTOL testing will begin in 2025 as part of our strategy to adopt new technologies. We are working to see how we can support urban air mobility."
Various aircraft concepts are being mobilised for urban taxi services, parcels delivery, medical assistance and recreation with minimal military use. eVTOLs are emerging as a solution to navigating busy and congested city areas and has attracted global airlines in the race to secure new revenue streams.
The Embraer spinoff, Eve Urban Air Mobility, has signed a deal with Kenya Airways to develop operational craft for UAM via Fahari Aviation. Under this agreement, Eve will work with Fahari to establish its mobility network and the required urban air traffic management procedures and operating environment.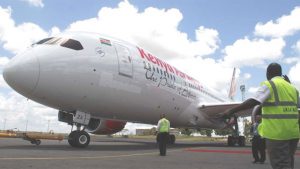 Meanwhile, Fahari is to support Eve's aircraft and product development process, which will help guide the integration of Kenya Airways' overall operations.
Eve has signed contracts with 17 companies for 1,735 orders of its aircraft, valued at USD5 billion as of January 2022.
For more information
https://www.kenya-airways.com/uk/
(News Source: https://www.businessdailyafrica.com/)