By Chris Stonor
Dr. Geoffrey Bower, the Chief Engineer at Archer Aviation, discusses all things eVTOL on the respected AirplaneGeeks podcast. The chat starts at 01.10′ and continues to 36.40′ . The Wisk lawsuit is out-of-bounds due to the obvious legal implications, so the discussion focuses more on the general eVTOL industry and Archer's future.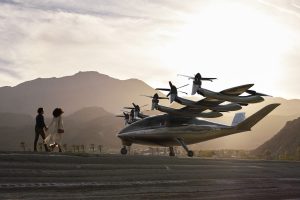 Bower describes why UAM is receiving so much attention and why increasing numbers of companies are getting involved. He covers the different eVTOL missions and design approaches, and the factors that affect efficiency and the cost of the aircraft looking at the "crewed vs. autonomous", and what is limiting the number of passengers they can carry.
Pilot type ratings and the GAMA Simplified Vehicle Operations concept are also covered. Some of Archer's competitors like EHang are mentioned. Meanwhile, Bower discusses the Archer eVTOL development and testing, and its timeline for a first trial flight.
Footnote
Geoff has nearly 10 years of industry experience working on eVTOL aircraft. He started his career working on flight control system development and aerodynamic modeling at Zee.Aero.
From 2016 through 2019 he was Chief Engineer for Project Vahana at A3, the Silicon Valley innovation centre of Airbus. He led the engineering team that designed, built, and completed a successful flight test campaign of the Vahana Alpha demonstrator.
Listen to Podcast
 http://www.airplanegeeks.com/2021/05/12/653-archer-aviation-evtol/
(Top photo: Dr Geoffrey Bower)