By Chris Stonor
Malaysia Airports announced this week that it has signed a tripartite Memorandum of Understanding (MoU) with Skyports, a leading designer and operator of vertiport infrastructure for Urban Air Mobility (UAM) and Volocopter, reports a company press release.
Initially, this partnership will incorporate their experience to conduct a feasibility study examining suitable vertiport solutions for eVTOL aircraft including demand, customer flow, and how to integrate UAM operations. The Asia Pacific region is expected to embrace around 45% of the advanced air mobility (AAM) market by 2035, translating to USD9.5 billion and be a game-changer for air travel.
The collaboration forms part of the five-year Sultan Abdul Aziz Shah Airport, Subang (LTSAAS) Regeneration plan that explores the deployment of electric air taxi services at LTSAAS as well as other locations throughout Malaysia.
Dato' Mohd Shukrie Mohd Salleh
Dato' Mohd Shukrie Mohd Salleh, Malaysia Airports' Group CEO, commented, "Air taxi technology and revolution is the next big thing that we want to see happen in Malaysian aviation. With LTSAAS offering a synergistic ecosystem within the aviation and aerospace sectors, it is timely for us to explore this new service as it complements other key developments of the regeneration initiative."
He continued, "Volocopter and Skyports are both leaders in their respective fields of advanced air mobility and we hope to further futureproof LTSAAS's position in Asia Pacific by catering to research, assembly, manufacturing, maintenance, repair and overhaul (MRO) in addition to air taxi operations." Adding, "Our objective is to provide end to end, mid to high value capabilities and solutions that are anchored by top tier operators."
Malaysia Airports' Group CEO, Dato' Mohd Shukrie Mohd Salleh, added, "LTSAAS Regeneration will offer various development opportunities to aviation and aerospace players worldwide thus echoing the government's original intent to turn LTSAAS into both an international aerospace center and business aviation hub."
Skyports in partnership with Volocopter, was the first to build a full-scale passenger air taxi vertiport in 2019 launched as part of a trial in Singapore. Skyports currently has infrastructure projects in development elsewhere in Asia, as well as in Europe and North America. Among the roles of Skyports in this tripartite MoU includes exploring the development and operations of vertiports at airports operated by Malaysia Airports.
Duncan Walker, CEO of Skyports, said, "The feasibility study will allow us to explore all the elements needed to create a future air mobility model that could be deployed across the region. Our track record of success with Volocopter combined with a wealth of experience and Malaysia Airports' objectives, make this an exciting initiative."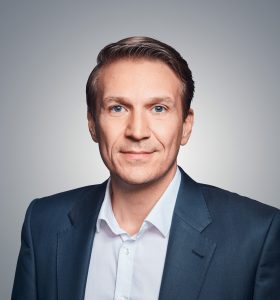 Christian Bauer
Meanwhile, Volocopter take a holistic approach to UAM by developing an entire ecosystem that connects the necessary components to offer electric flight in cities. The company's track record includes designing and pioneering the first piloted and fully electric air taxi in the world. Volocopter's role is to assess the deployment of eVTOL aircraft and operations of urban air taxi services from vertiports at LTSAAS.
Christian Bauer, CCO, Volocopter, concluded, "The Southeast Asian Market is one of the largest and most interesting ones for UAM due to its geographical layout and dense population. Our feasibility study will help give us insights on demand, customer expectations, and airport integration, which we can apply to other markets in the region."
Visual presentation
https://www.youtube.com/user/volocopter
For more information