By Chris Stonor
Twitter is "all aflutter" with news that the much-publicised EHang vertiport being constructed at Tulum, Mexico is now complete with photos appearing on social media over the weekend. It complies with the Mexican regulatory 50 metres perimeter for landing.
UAMN has covered this story from inception when the story first broke two years ago. And over the last year, Los Amigos, a leading Mexican property developer with an eye on ecology, affirmed its intention by posting on Twitter that the company was to build a vertiport within one of its latest property developments in Tulum. Being part of a projected EHang tourist operation for the area the vertiport was to be called "Skyport Tulum."
https://losamigostulum.com/blog/podcast/podcast-3-the-future-of-mobility-take-off-in-tulum/?utm_content=135267694&utm_medium=social&utm_source=twitter&hss_channel=tw-3201355505
Pictures then emerged of the early stages of its development earlier this year alongside tweets like "Come and try the first passenger drones in Mexico." Hey-ho, the vertiport is now complete.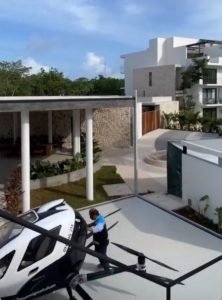 Previous UAMN Articles about Tulum:
https://www.urbanairmobilitynews.com/air-taxis/watch-video-property-developer-constructing-vertiport-in-tulum-mexico-for-ehang-216-aavs/
https://www.urbanairmobilitynews.com/air-taxis/ehang-demonstration-flights-planned-for-mexico-this-year/
The next step is unclear. Will the company have to wait for regulatory approval for flights around the area to take place and how long will this take? Or has this been one long promotion/ marketing ploy to sell the newly constructed apartments?
As ever, UAMN will be scrutinising social media with a close eye.
For more information