By Chris Stonor
If you are interested with investing in the emerging eVTOL/UAM industry, whether as a company or individual, this Morgan Stanley virtual/webinar is a must viewing. The event begins tomorrow (Wednesday, May 12th). Both Archer and EHang are part of "a fireside chat" offering 101 reasons why you should invest in their companies.
Archer's co-founder, Brett Adcock and Adam Goldstein, will appear virtually at 2pm ET. Of course, there is that "little problem" concerning the Wisk lawsuit, so investors, hopefully, may learn more of the latest updates and how it may or may not affect the company's impending SPAC Stock Market flotation with Atlas Crest. No news has appeared since the original Wisk statement on April 6th.
Meanwhile, EHang is appearing in a full series of virtual investor conferences judging by this table (see below), covering various major investment banks and organisations like Goodman Sachs, Credit Suisse and Stanley Morgan.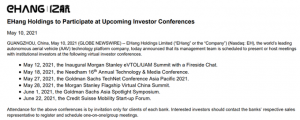 It is unclear at what times its management team is scheduled to present or host such meetings. It is also unclear what other eVTOL/UAM companies are appearing on Wednesday given the lack of overall publicity. Perhaps, this is more a closed shop for serious investors only?
Click Here to Join the Virtual eVTOL/UAM Summit:
https://morganstanley.webcasts.com/starthere.jsp?ei=1440833&tp_key=247ffcba5b
For more information