By Chris Stonor
A sign of a vibrant and fast-growing new industry is the number of jobs being created. In recent months, eVTOL companies around the world are quickly expanding as new investment enters the field, whether from private means or public avenues like the stock market.
Joby Aviation, for example, is looking to train potential pilots to operate its S4 craft. So, if you're a youngster with ambitions to fly, or an experienced flyer seeking a new outlook, here is a wonderful opportunity to become part of the aeronautical future. Why become a helicopter pilot, for example, when eVTOLs will soon dominate that market?
Meanwhile, Airbus UAM is seeking a business strategist, where its advert poses the question: "Would you like to be at the heart of this next revolution in aerospace?" Back in late January, XTI Aircraft advertised for an FAA Certification Manager as well as four different engineer jobs including flight control law, powerplant lead and systems safety lead.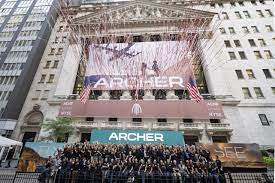 Archer Aviation are Recruiting (Pic: Archer)
Skyports are hiring people to join its vertiport infrastructure team, business development and executive office. Kittyhawk is looking for a Head of People Ops. The list goes on as a majority of eVTOL companies have regular vacancies whether it be Archer, Wisk and Lilium or Eve, Beta Technologies, Vertical Aerospace and Supernal. There have never been so many job opportunities within the industry and this can only increase.
PS: A majority are well-paid too!
An example: Archer Aviation are Recruiting
Find Your Ideal eVTOL Job (USA):
https://www.simplyhired.com/search?q=evtol&job=qE_YHlKhK4bzlCRYCcR0P5EDkud7HKYIcFbDSPrmpD6Yd5kjWldGcA
(Top pic: Illustration by Yamakitakumi)