By Chris Stonor
PAL-V Liberty announced recently that its flying car will have Aspen Avionic's "Evolution Flight Display System" integrated as standard into its digital cockpit, reports yahoo.com.
Based in Albuquerque, New Mexico, Aspen Avionics builds digital avionic technology for small commercial and general aviation aircraft, and has developed some of the aerospace industry's first digital flight displays as replacements for analogue mechanical gauges and controls. Aspen Avionics' GPS-backed digital cockpits provide a full array of real-time flight data including altitude, air speed, weather, terrain, nearby air traffic, and navigational information.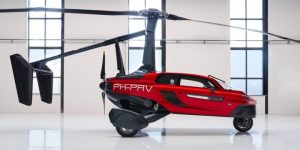 Aspen International Regional Sales Manager, Cory Relling, commented, "We designed the Evolution product display over 15 years ago. With over 20,000 displays installed worldwide, we never imagined that an Aspen primary flight display would be among those installations in the first commercial flying car."
Previous UAMN Article on PAL-V Liberty:
https://www.urbanairmobilitynews.com/air-taxis/the-first-of-the-firsts-flying-car-pal-v-liberty-completes-full-easa-certification/
The PAL-V Liberty is a three-wheel flying car and has been in development for close on 20 years. The Liberty converts to a gyroplane by folding out its rotors and propellers, which are attached to the roof and back of the car. The company has been trialling the vehicle since 2012 and expects to achieve flight certification within the next two years, while aiming to reach the commercial market by the end of 2022.

Visual presentation
https://www.youtube.com/watch?v=yIjSaEeO2l0
https://www.youtube.com/watch?v=43WWStYRgts
For more information
(New Source: www.yahoo.com)