By Chris Stonor
It is no surprise that Joby Aviation investors approved the SPAC merger with Reinvent Technology Partners (RTP) yesterday. businesswire.com writes, "Reinvent Technology Partners (RTP), a special purpose acquisition company (SPAC) announced that at its Extraordinary General Meeting of Shareholders, RTP shareholders voted to approve and adopt the previously announced business combination agreement with Joby Aviation."
The merger is expected to go through on Tuesday, August 10th, whereupon, RTP will change its name to Joby Aviation, Inc. and shares and warrants are expected to trade on the New York Stock Exchange under the ticker symbol "JOBY" and "JOBY WS," respectively.
JoeBen Bevirt, Founder and CEO of Joby, commented, "We're honored that the shareholders of RTP have chosen to overwhelmingly support this transaction. These additional funds ensure that Joby continues to be the best funded company in this sector and, more importantly, we believe they deliver the required funding to execute on our plan."
Is Joby a good share investment for the future?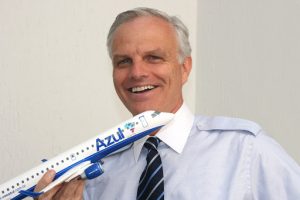 David Neeleman
Meanwhile, an impressive video was released earlier this week from David Neeleman, Founder of Azul Aircraft, WestJet and Jet Blue, discussing why his company has chosen Lilium to carry out the future of his air travel.
Previous UAMN Article:
https://www.urbanairmobilitynews.com/air-taxis/lilium-announces-usd1-billion-deal-with-brazilian-airline-azul/
He says, "Being able to kind of fly between two points where you have congested traffic, or where you have lack of infrastructure, or maybe there's even the safety of being on a highway at night, is really critically important to the cities where we serve."
Well worth a view.
Watch Video
https://twitter.com/Lilium/status/1422618256108568584
EHang is featured on a YouTube news channel this week, although the commentary comes via that irritatingly clipped robotic voice. This is more for the eVTOL bloodhounds who enjoy "sniffing out the latest speculation and rumour."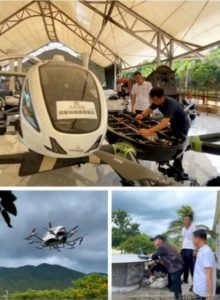 The voice speculates that EHang are setting up a second route for tourist flights around Hainan Island in collaboration with Yontao Resorts Group based on photos that recently emerged via Chinese social media. The pics also show, close up, the various safety features the 216 passenger air taxi hold.
Then Air Tojoy Aviation is thrown into the mix as a possible future partner with EHang, supported again by photos. There is no smoke without fire and it is surprising how often these internet sleuths are proven correct.
https://www.youtube.com/watch?v=39w_YokOY74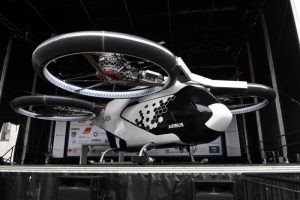 Finally, here is link to a feature from a Tech blog amusingly called Bits & Chips. About how Airbus is taking PDEng trainees on a flight into the future. It begins: "Whenever people ask me about the project I'm doing for Airbus, I tell them that we're working with lasers in space, like in a sci-fi movie," jokes PDEng Software Technology trainee Nastaran Bajalan. She's leading the team that's looking into free-space optical communication, one of two collaborations the aerospace giant has embarked on with the TUE's post-graduate program.