By Chris Stonor
Archer Aviation published a shareholder letter this week covering its Q4 2021 results. Under the heading: "The flight of a lifetime, every day", the summary includes:-
Successfully completed the first hover flight of our Maker demonstrator aircraft, and its performance was in line with our expectations.
We continue to focus on finalising our G-2 Issue Paper with the FAA for our production aircraft. The G-2 Issue Paper will set forth the means of compliance to meet the certification basis requirements established in our G-1 Issue Paper. We remain on track to agree with the FAA on our G-2 Issue Paper in 2022.
Importantly, we successfully completed each of our stated 2021 milestones and remain on track to achieve our 2022 milestones.
Unfortunately, as Archer Aviation is still in its early stage of development, there isn't too much to cheer about for shareholders, especially during the present general tech-related stock market sell-off.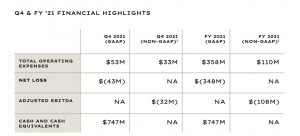 (Click to Enlarge)
At present, the Archer share price is down close to 70 percent from its USD10 opening stock market float price last September. At least, yesterday there was a 14.6 percent rally from lows of USD2.96 to a closing price of USD3.33.
UAMN Previous Article:
Watch Video: Archer Aviation Founders interviewed by United Airlines backer Scott Kirby + More
But this is not the time to panic. Archer is a long hold and given its backing from big business will, no doubt, become a leading player in the future eVTOL industry. Already, it has support from United Airlines with 200 firm orders for its Maker aircraft and another 100 potential ones.
Read Shareholder Letter:
https://s27.q4cdn.com/936913558/files/doc_financials/2021/q4/Letter-to-Archer-Shareholders_Q4-2021.pdf
For more information