By Chris Stonor
Transportup.com has published an article this week entitled 2021 Highlights in Aerial Mobility. The publication offers its personal "Top 5" of last year's best moments and developments that include film footage.
The article begins, "This year presented a strong showing for aerial mobility with numerous acquisitions, first flights, infrastructure/ legislative deals and massive orders. Heading into the New Year, expect to see market leaders continue pushing towards commercialisation of their eVTOL ambitions and increasing public support for safe and sustainable urban aerial mobility."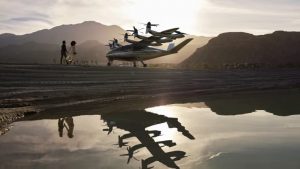 The top 5 includes GM's unveiling of its eVTOL concept at CES 2021, United Airlines USD1 billion order for the Archer Maker Aircraft and Joby Aviation's first released public footage of its prototype in flight. While some may not agree with the publication's picks, it certainly offers discussion.
Read Article:
https://transportup.com/editorials/2021-highlights-in-aerial-mobility/
(News Source: https://transportup.com/)