By Chris Stonor
An Australian media outlet CRN is the latest to positively gush over eVTOLs with a feature entitled Transport's Future is in Flying Cars.
Ok, that eponymous term "Flying Car" is enough to irritate even wrestling weasels, but as the positive count adds up, the public is being eased into a future that is not only possible, but inevitable. The opening paragraphs written by journalist Jane Wardell, colourfully herald this nascent and growing industry.
"Paramedics with jetpacks, border police in flying cars and city workers commuting by drone all sound like science fiction – but the concepts are part of an advanced air mobility (AAM) market that is expected to be worth as much as USD17 billion by 2025.
"As urbanisation leaves city streets congested and advances in technology allow for vehicles considered impossible just decades ago, using the sky for small-scale aircraft has become increasingly attractive."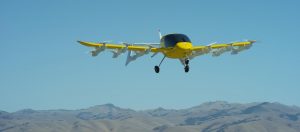 Wisk eVTOL
Then Anna Kominik, Asia Pacific Director at eVTOL company, Wisk, is quoted to offer professional weight to this growing article eulogy. "We can't continue to use road transport," she says. "3D mobility is really important."
Worth a read.
Read Article:
https://www.crn.com.au/news/transports-future-is-in-flying-cars-573589